Goal United
Eder's Brazilian magic saves Italy but lack of star quality is exposed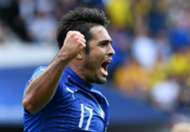 ---

COMMENT
---
"We're a team aware of our limitations," Italy goalkeeper Gianluigi Buffon admitted in Toulouse on Thursday. Less than 24 hours later, against Sweden, those limitations were exposed. However, once again, the Azzurri's remarkable resilience saw them through a dour encounter - and into the last 16 of Euro 2016.
Italy toiled for the best part of 75 minutes against a Sweden side that had been lucky to claim a draw in their tournament opener against Republic of Ireland, utterly incapable of gaining any control over a midfield marshalled by the 33-year-old Kim Kallstrom and, as a consequence, offering next to nothing up front. Eder and Graziano Pelle didn't manage a touch in the opposition area during the first half.
Of course, without injured duo Claudio Marchisio and Marco Verratti, Italy were always likely to struggle to retain the ball as well as they can, but Antonio Conte hardly did himself any favours by omitting Jorginho, the Italo-Brazilian's only crime being that he plays too many horizontal passes. Still, anything would have been preferable to watching Italy launch one hopeful vertical ball after another in the direction of Pelle until the Southampton striker was finally withdrawn midway through the second half.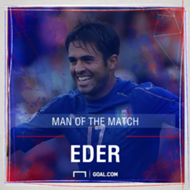 Of course, needs must, and Conte decided to play a brand of football that best suited those at his disposal. Furthermore, their direct approach had worked wonderfully well against Belgium. Here, though, against a side far less likely to commit more than four players to attacks, it was always unlikely that Italy's desire to exploit the space in behind their opponents would prove as effective against the stoic Swedes.
Still, this was horribly pedestrian stuff and the decision to drop Matteo Darmian in favour of Alessandro Florenzi was utterly baffling. The Roma man was inexplicably stationed on the left-hand side of the midfield (or defence, as it proved) and he repeatedly slowed down the play due to his need to cut back inside on to his favoured right foot.
Italy, though, have the best backline in the competition and they had little trouble repelling a team as toothless as Sweden. Yes, the Scandinavians have Zlatan Ibrahimovic but, as was evident against Ireland, there is next to nothing going on around him. Indeed, at times it was difficult to watch a player as great as Ibra having to drop deeper and deeper in order to try to make something out of nothing. Unsurprisingly, he failed in that endeavour as Sweden proved unable to register a single shot on target for the second consecutive game, thus earning themselves a most unwelcome place in European Championship history.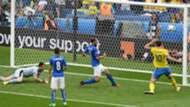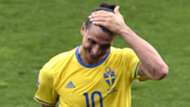 It was as if Italy only realised just how poor their opponents were in the closing stages, with Marco Parolo heading against the bar before Eder decided a dour encounter in the Azzurri's finish with an emphatic finish after a terrific surge into the Swedish area. It was the only moment of individual quality in the entire game and evoked memories of Roberto Baggio's sublime solo strike against Bulgaria in the semi-finals of the 1994 World Cup.
Of course, qualification has now been secured, which is a remarkable achievement for an Italian squad dismissed as one of the weakest ever to arrive at a major international tournament. However, as the wild celebrations on the bench at the end of the game proved, they have a united group, one that knows exactly what their strengths are.
As Buffon said, "Once you're aware of your limitations, you're aware of what you need to do on the pitch and that means you're always switched on." Sweden, by contrast, switched off at precisely the wrong time and were punished by Eder's excellence, underlining that while this may not be a vintage Italian side, they are eminently capable of classic smash-and-grab wins.