Serie A
Dybala & Totti lead peace campaign in war-ravaged Syria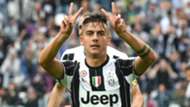 Juventus star Paulo Dybala has joined Roma icon Francesco Totti in the campaign for peace as the war in Syria that has led to millions of displaced refugees rages on.
Griezmann refuses to rule out Madrid move
Recent escalations of tension in the Middle East have led to a stand-off between United States and Russia over allegations of a chemical weapon attack.
Given the precarious situation, Juventus attacker Dybala has taken to social media to plead for an end to war in the world.
"STOP WAR! Every child is my child," he posted on his official Instagram account, accompanied by a picture of him wearing a t-shirt emblazoned with the hashtag #EveryChildIsMyChild.
Dybala posted his anti-war message just a few days after fellow Serie A stars of past and present such as Totti, Ciro Immobile, Gianluca Zambrotta and Simone Inzaghi shared their own.
Dybala's message has proved particularly popular, gaining almost 400,000 likes on Instagram.