Mario Götze
Dortmund's Gotze needs right coach to return to his best, says former youth boss
Mario Gotze's former youth coach Peter Hyballa believes the Borussia Dortmund midfielder can return to his best as long as he plays under the right coach.
Gotze became a national hero when he scored the extra-time winner for Germany in the 2014 World Cup final against Argentina in Brazil, but his career has been in steady decline since.
The 26-year-old returned to Dortmund from Bayern Munich in 2016 but was diagnosed with a metabolic disorder the following year, severely limiting his first-team opportunities.
Gotze is now back to full fitness but has yet to start a Bundesliga game this season, though he did come off the bench to score in a 4-3 win over Augsburg before the international break. The midfielder also scored one and set up another on a 4-0 friendly win over fourth-tier Alemannia Aachen on Monday.
News of Gotze's revival is of no surprise to Hyballa, who managed him while in charge of Dortmund's Under-17 side. He is confident Gotze can return to his previous form but he needs the right coach to bring the best out of him.
"He can still play. But he obviously needs the right coach, " Hyballa told Goal and Spox. "I used to think that Mario plays in every team. But apparently he already needs a free-spirit coach and no structure coach.
"Mario is a free spirit himself and with such a player you have to talk a lot. And not all trainers understand that. Especially in Germany."
Aside from the right coaching, Hyballa says Gotze may have struggled to live up to expectations after the highs of the World Cup and suggests a move away from Germany could prove beneficial if he continues to struggle for regular action at Dortmund.
"I do not want to give him any tips, that's not for me. He just has to keep going and maybe relax a bit. There are other things in life than football.
"From my external perspective, I see only two possibilities: Either, he prevails at Borussia Dortmund or he goes abroad.
"But of course it's also a matter of mind. Of course he's been listening for years: you're the best, you're the best. And he said back then that he sees himself among the best clubs in the world.
"That's why he's always put the most pressure on himself. He is a perfectionist, but this claim also wears you down."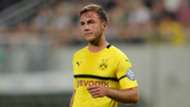 Hyballa also admits he had no doubts Gotze would make it as a professional the moment he came to train with his Dortmund U-19 side.
The 42-year-old, who is current coach of Slovak club Dunajska Streda, also credits the sometimes harsh approach towards Gotze by his fellow youth coaches as Dortmund, which ultimately aided the youngster's development.
"Our youth goalkeeping coach Matthias Kleinsteiber, who also led the BVB Youth Board, drew my attention to him. And then a small chubby guy came to us, but he did just about everything right. Actually, I'm always very emotional in training, but when I saw that, I was pretty quiet for a while.
"Then I called the then U-17 coach and said: He will not come back to you. We played a huge season back then and played for the championship and the cup in the finals. Mario was very fast an integral part of the team, has played on the 10 and on the wings.
"At that time one already saw what incredible qualities he possesses. He sees spaces, has an outstanding technique and incredible talent. For example, we did a triathlon in the training camp, so he swam it all the others. Since I thought: Is there anything he is not able to do? But you have to say one thing.
"His development does not come from God alone, but also the youth department of Borussia Dortmund. Because the trainers at BVB also had a very rude, direct nature, as it belongs somewhere in the Ruhr area. And this speech was just right for Mario. You do not always have to sensitively tackle a sensitive person, but sometimes tackle it counter productively to get the most out of it."