World Cup
'Does Lloris have concussion?' - Twitter blasts Hugo howler against Croatia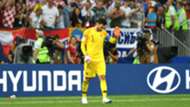 Football fans have hit out at Hugo Lloris for his howler in the ongoing Fifa World Cup final against Croatia.
The 31-year-old conceded a mischievous goal to hand Zlatko Dalic's men their second goal in the high scoring encounter.
A sluggish Lloris attempted to play out from the back on his own goal line but in the process allowed Mario Mandzukic to make the closing interception, steering the ball into the net.
Although Didier Deschamps' men are on course to be crowned as world champions with a 4-2 lead, but the Tottenham Hotspur first choice's performance did not go well with fans as they took to Twitter to express their rage.
"Does Lloris have concussion? Haha" #FRACRO pic.twitter.com/n0DB33YDyZ

— george 🇸🇳🇬🇳 (@ffsGeorge2) July 15, 2018
Confirmation that Lloris is concussed.

— . (@Dan___COYS) July 15, 2018
What does Lloris think he's doing? Playing FIFA Street?!?!?! #WorldCupFinal #FRACRO pic.twitter.com/EC5iFbQEar

— Aman The World Cup🏆Fan (@AmanTsays) July 15, 2018
Karius seeing that Hugo Lloris mistake pic.twitter.com/p9fzycI9xt

— Isco Disco (@MadridistaFacts) July 15, 2018
Lloris letting that goal in #WorldCupFinal pic.twitter.com/S8qKfuCIKu

— 🎗 (@mixofeden) July 15, 2018
Sergio Ramos was one of the pitch invaders and concussed Hugo Lloris by elbowing him.

— Footy Humour (@FootyHumour) July 15, 2018
Lloris is so shit he's about to lift the World Cup as captain.. I wish I was that shit at anything

— MagicMauricio (@jakey_efff) July 15, 2018
i want to hug Lloris

— princess (@ShaaruVasu) July 15, 2018
Lloris with his Skills 😂 Classic Spurs style bottling up 😂😂#FrancevsCroatia

— ReaperBlues (@RohitThomas6) July 15, 2018
Lloris out here doing the Karius challenge of his own 😂#FRACRO

— peter malath (@malathp) July 15, 2018
You can take the kepper out of Premier league but you cant take Premier league out of the keeper.
Karius did it
De Gea did it... so, why not Lloris

— Elias (@chigoziiem) July 15, 2018
get you a man who will protect you like lloris protects the french goal

— 줄리아 💫 (@handsomevernon) July 15, 2018