African All Stars
Do the Ayew brothers have a Black Stars future?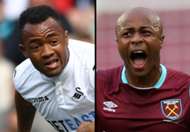 ---
COMMENT 
---
Considering how influential the Ayews have become in Ghana's set-up, there was much intrigue to see whether Andrew and Jordan would be included in Kwesi Appiah's squad to face Egypt in this weekend's World Cup qualifier.
The duo has been left in the cold since withdrawing from an away fixture against Congo-Brazzaville in September on suspicious health grounds, a few days after putting up a dismal display - admittedly in an underwhelming team performance – in the first leg clash against same side in Kumasi.
The 1-1 stalemate all but dashed Ghana's World Cup hopes, and tempers were sky high, disappointment abounded, long faces were everywhere. A scapegoat had to be found.
In their withdrawal, the Ayews put their heads on the chopping board, especially when the Black Stars thrashed the same Congolese side 5-1 away without them only four days later.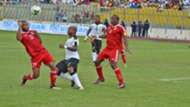 "Asamoah Gyan wasn't fit [for the same away fixture], he wasn't feeling well to play but he managed to go with the team, so I expect the deputy captain [Andre] to be with the team [as well]," former Ghana winger Laryea Kingston, a close friend of Black Stars technical coordinator Stephen Appiah, said on GH One TV.
"For him to stay out and let the team go, for me, it wasn't the best," he added. "Andre and Jordan felt that 'there was no hope so why should I go?'
"But they have to be committed to every game, even [when] the game is not important. For me, I think they abandoned the team."
The question now remains; do the Ayews have a Black Stars future under Appiah?
The answer may well be different for each of the brothers; Andre will certainly return to the fold, but Jordan? The future looks much more uncertain.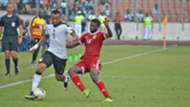 Since returning from his long injury layoff in November 2016, the elder Ayew has struggled to reproduce the form that saw him hit 12 league goals for Swansea City in 2015-16.
One thing has been clear throughout his career; when Dede gets going at club level, he almost certainly gets going in the national shirt.
His recent struggle in Ghana colours isn't exactly isolated, as he was, until last month, a bench warmer at West Ham.
Andre Ayew stats | Premier League 2017-18
However, there's light at the end of the tunnel—and we're not just talking about the managerial shake-up at the London Stadium
The 27-year-old has found the net three times in his last three outings, and also contributed an assist in the 4-1 defeat by Liverpool.
A week ago, Jordan Ayew was being force-fed Lucozade in a Kumasi hospital after calling in sick..he's recovered enough to start for Swansea! pic.twitter.com/bdRN5RJlTm

— Ed Dove (@EddyDove) September 10, 2017
If he continues in this vein, surely he'll be recalled to the Ghana squad in early 2018.
Appiah's audition for new wingers and Ayew replacements has yielded little thus far, as Patrick Twumasi, Frank Acheampong, Thomas Agyepong and Kingsley Sarfo have not exactly blown anyone away.
That situation, unfortunate as it may seem, bodes well for Andre.
Appiah's change of approach in his recent fixtures also offers encouraging signs for Dede's international future.
In his last three games, the coach has left behind his preferred two-top system for a lone striker approach.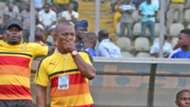 Atletico Madrid sensation Thomas Teye Partey has so far occupied the hole behind the main striker, but as seen in the away draw with Uganda, he's definitely not the best fit for that role.  That plays into the hands of Andre who seems the most suitable option for the No. 10 spot.
Appiah has already demonstrated his willingness to recall players to the fold by welcoming Mubarak Wakaso back into the squad after previously being overlooked by Appiah.
This should provide optimism for Ayew too.
For Jordan, however, the narrative is sharply different.
A poor return of 12 goals in 46 matches as a striker has been far from convincing, but his biggest problem has been his sulking attitude, his lethargy, his disinterest and perceived selfishness in games – all which are far from seasonal concerns.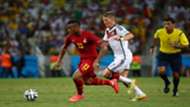 The truth is, Ghanaians never forgiven him for opting for personal glory when he could have set up Asamoah Gyan for what could have put the Black Stars 3-1 up against Germany at the 2014 World Cup.
With the list of complaints ever growing, his poor showing against Congo was ultimately his final straw….certainly in the eyes of many supporters.
Jordan Ayew stats | 2017-18 Premier League
With Gyan perpetually ahead of him on the Ghana pecking order, FC Zurich striker Raphael Dwamena, 22, and Red Star Belgrade frontman Richmond Boakye-Yiadom, 24, both overtaking him, and 23-year- old Bayern Munich striker Kwasi Okyere Wriedt knocking on the Black Stars door, the signs just don't look good for Jordan.
His 'end' is certainly not cast in stone.
For Andre, however, his return or continued exclusion rests in his own hands.