Belgium
Do Chelsea have a buy-back clause for Thorgan Hazard? Behind transfer to Borussia Monchengladbach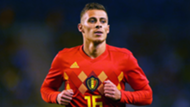 Eden Hazard isn't the sole football prodigy in his family, after his younger brother Thorgan scored two goals for Belgium in their recent Nations League loss to Switzerland in early November.
Thorgan is only two years younger than his brother and is also deployed in an attacking midfield and winger role, and is a strong prospect for his Bundesliga side Borussia Monchengladbach.
What's more interesting about Thorgan, however, is the fact that he followed his older brother to Chelsea in 2012 before making a permanent move to Germany, and what had Blues fans buzzing recently is whether Thorgan could yet return to Stamford Bridge in the future.
So what is the full story on the younger Hazard, and does his contract dictate that he could make a Blues comeback? Goal takes a look.
---
Who is Thorgan Hazard?
---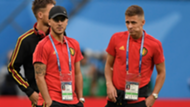 Hazard is a Belgian midfielder who plays for Bundesliga side Borussia Monchengladbach, and is the younger brother of Chelsea star Eden Hazard.
Like his older brother, the younger Hazard plays in an attacking midfielder and winger for both club and country.
The 25-year-old followed in his older sibling's footsteps in starting his youth career progressing through the ranks at Belgian sides Royal Stade Brainois and Tubize, before signing his first professional contract after graduating from the Lens academy in France.
Hazard's parents thought that a move to France from Belgium would further his football career and accepted the offer, emulating the path of Eden – who signed a professional contract with Lille, who are the main rivals of Lens.
During Hazard's time at Lens, he came up alongside established players such as Raphael Varane and Geoffrey Kondogbia in the side that that won the Ligue 2 title in the 2008-09 season.
---
How long did Thorgan Hazard stay at Chelsea?
---
In the summer of 2012, after three years with Lens, Hazard signed for Chelsea not long after they had already agreed terms for the transfer of his older brother Eden from Lille.
The younger Hazard made his debut only outing at any level for the Blues in August 2012 in an Under-21 Premier League fixture against Manchester City at Stamford Bridge.
Though Hazard was a Chelsea player for three years, but spent much of that on loan – first in a two-year spell at Belgian side Zulte Waregem from 2012 to 2014 and then at Borussia Monchengladbach in the 2014-15 campaign.
At Zulte Waregem, the midfielder was honoured with the Belgian Golden Shoe in January 2014, awarded to the best footballer in the Belgian Pro League, and scored 21 goals over 90 appearances.
In his debut season on loan for Borussia Monchengladbach, Hazard scored five goals in 41 outings.
He never played in a competitive fixture for Chelsea, and eventually agreed to leave the side to join Mochengladbach permanently on July 1 2015, signing a five-year contract.
The transfer fee was reported to be €8 million (£5.9m), which is 16 times as much as Chelsea originally paid for him.
---
Is Thorgan Hazard a full Belgium international?
---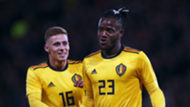 Hazard has represented his country in every level starting with the Under-15 side, and was handed his first senior call-up against the United States in May 2013, and has since earned 19 caps and registered three goals.
The midfielder made his international debut for Belgium as a second-half substitute for Romelu Lukaku in the 4-2 win against the USMNT, and was included as one of his country's seven standby players for the 2014 World Cup.
His second senior cap came three-and-a-half years later, however, in a 1-1 draw against the Netherlands in November 2016 when he made a substitute appearance.
He netted his first goal for Belgium in a 2018 World Cup qualifying match in October 2017 against Cyprus, and went on to be included in Roberto Martinez's 23-man squad for the finals in Russia.
He recently scored two memorable goals against Switzerland in the UEFA Nations League in November in a 5-2 loss.
---
Do Chelsea have a buy-back clause for Thorgan Hazard?
---
The Blues have had a history of retaining interest in their former midfielder , and Hazard has spoken about his desire to one day return to West London – but it is uncertain whether a contractual agreement was ever reached.
During the time of Hazard's transfer from Chelsea to Borussia Monchengladbach, he stated that there was a buy-back clause included that would let him return to Stamford Bridge in the future.
At the time, he stated according to the Metro : "It is true that Chelsea has a buy-back option. I'm glad, because I hope to still play for Chelsea.
"That remains a goal. I am focusing on excelling at Borussia Monchengladbach, but I still hope to play for Chelsea one day."
The full details of his contract, however, are far from straightforward, as Gladbach sporting director Max Eberl denied any possibility of there being a clause that would allow the midfielder to return to Chelsea.
"There is no clause," he told Express.de .  "I do not want to comment on any contract content. But we also do not need to make any secrets about it.
"If we get such a top player from Chelsea, then Chelsea has, of course, always the opportunity, in whatever form, to think about this player."
Furthermore, Sport Witness  revealed earlier in the year – after translating a report originally made by SportBild – that they have an option of matching any offer received for Hazard, negotiated when they sold him to the German side.
Additionally, in a recent interview with  Onze Mondial , Hazard again remained optimistic that his contract did include a clause, though it appeared to be more of a come-and-get-me plea directed at Chelsea than anything concrete.
"My father [Thierry Hazard] deals with [contract issues] now," he revealed. "Sometimes, I hear there is one. Here, I'm told there isn't. Frankly, I don't know.
"It's not that I don't care, but I don't think about it. I'm happy here. If Chelsea want to buy me back one day, I think they'll do it, that's not an issue. Actually, if there is or isn't one, it's the same, really."