Transfers
Diego Ribas reveals offers from Real Madrid & Bayern Munich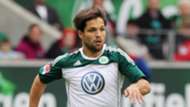 Brazil international Diego Ribas has revealed that he was in negotiations to join Bayern Munich and Real Madrid in 2009.
The attacking midfielder, currently plying his trade with Flamengo, had lit up the Bundesliga with 38 goals across three seasons with Werder Bremen, making a name for himself as one of the most creative attacking midfield players in Europe along the way.
Naturally it was not long before Europe's big guns came along, with Juventus ultimately winning the battle for his signature, and the 32-year-old has now revealed that he had the opportunity to join Bayern Munich as well as Spanish titans Real Madrid
"Back then [in 2009] I had a dream offer from Bayern – it was even better than the one from Juventus," He told SportBild.
"And even Real Madrid wanted me. We had talks."
Ribas turned down offers from Spain and Germany, however, opting to make the switch to Italian champions Juventus, and it was recommendations from his fellow countrymen that led to the Brazilian making the switch to Serie A.
"Juventus contacted me three times at the end of my seasons in the Bundesliga and everyone, from Ronaldo to the Brazilians already playing there, raved about Juve and the football in Italy."
Diego's foray into Italian football left a lot to be desired, with the Juve team at the time struggling to work as a unit, and a return to the Bundesliga with Wolfsburg would materialise after just one season with the Bianconeri.
"We had big players but no team. We were top second or third but it was a tough season for us.
"Wolfsburg are a good club – the people are friendly and that's why Wolfsburg will always be a part of my life."
Diego's recent resurgence with Flamengo has seen calls for the veteran to be included in Tite's Selecao squad for the 2018 World Cup.