NxGn
Meet Diego Lainez: The 16-year-old sensation who dreams of becoming the 'Mexican Messi'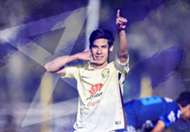 ---
EXCLUSIVE
---
On March 1, Diego Lainez took his first step on the rocky road to superstardom when he made his Club America debut in a Copa MX clash at the tender age of 16.
Only four years previously, he had left his family and his hometown of Tabasco to pursue his dream of playing for Las Aguilas. It didn't take him long to make a positive first impression.
NxGn: The top 50 teenage talents uneviled
"I came to the club for some open trials and I had the good fortune to be asked to hang around," Lainez tells Goal.
"Around two hours later, the team from my age level played against Puma. It went well for me, I scored a goal in that match and that helped me stay here at this great institution."
Despite his young age, Lainez Leyva is the kind of diminutive No.10 that faces extinction in a modern era that values physique above technique, which is why he idolises Lionel Messi.
"I really identify with him," the teenager reveals. "I really like his style of play, and I try to learn from him and do some of the things he does.
"I look to take players on a lot, play a lot of one-twos, but I also like to shoot from distance.
"I can play behind the No. 9 or as a midfielder. Whatever is needed, I do it, and I can use both feet very well."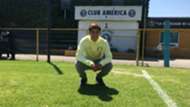 Given his attributes, it was no surprise that he was welcomed into America's senior squad this year and promptly given the chance to realise the first of his many goals: an appearance for the first team in a competitive fixture.
Lainez hasn't had it easy, though. While he has excelled on the pitch, he has often struggled off it, finding it difficult to cope with being so far away from his loved ones.
WATCH: Luis Enrique wakes up journalist
"You do miss your family and the truth is that they're the most beautiful thing in my life," Lainez explains.
"Obviously being away from them takes its toll but it's because of something I want to achieve - something I'm going to achieve.
"Besides, every one of my coaches has given me a lot, as a player and a person. They've helped me grow so much."
Even though he is still so young, and so small (he's presently 5'5" and weighs 128 lbs), Lainez isn't intimidated by the fact that he's a boy in a man's world. Indeed, he says that America's biggest stars have helped him adapt to life in the professional game.
"They're all really good guys, they give me a lot of advice and help me to grow as a player and are always supporting me," he enthuses.
"I really like how William [Da Silva] and Darwin [Quintero] play and they've given me advice, which I've taken it to heart."
While he is primarily focused on establishing himself in the America squad, Lainez doesn't even attempt to hide his excitement about potentially representing Mexico in this year's U-17 World Cup in India.
However, as he himself admits, he has a long road ahead of him and it's best to just continue taking it one step at a time.