Premier League
Dembele ready to leave Celtic, but Chelsea & Man Utd still need to be convinced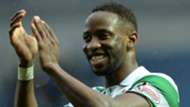 Moussa Dembele is intent on leaving Celtic this summer, but Goal understands there could be road blocks in the way of approaches from both Chelsea and Manchester United.
Sampaoli dismisses Barca links
The 20-year-old striker has caught the eye in the green and white hoops this season, netting twice against Manchester City in the Champions League on his way to racking up 31 goals in 43 games in all competitions.
And his recent back-to-back hat-tricks against St Johnstone and Inverness Caledonian Thistle have helped to attract interest from all over Europe, with United chief scout Jim Lawlor among those spotted at Celtic Park.
Goal has been told that the Frenchman is now keen to make the most of his raised profile with a move away from the Scottish Premiership during the summer transfer window, but the two Premier League giants are both still to be convinced that Dembele is worth the £40 million Celtic are likely to ask for his services.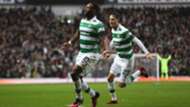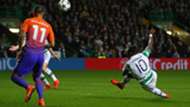 League leaders Chelsea have followed the youngster since his three-year spell with Fulham but are not thought to consider him as their number-one target this summer.
And with United thought to be less convinced of Dembele's quality at this point, the player's desire to play regular first-team football is also likely to provide a significant hurdle for a potential switch to Old Trafford.
Dembele has been earning rave reviews in the SPFL since his summer arrival, with team-mate Kieran Tierney recently telling Goal: "He can go all the way to the top. You see just now that he's playing in the Champions League, he's scoring goals. He doesn't look out of place, he's one of our best players in every single game."
Midfielder Stuart Armstrong has also been fulsome in his praise of Dembele: "He's such a young boy, but sometimes you forget just how young he is with some of his performances, especially in the Champions League, where he performs well  beyond his years. Physically, he's so strong, and he's a powerful finisher. You need that in the team – it's the most valuable thing in football."
Dembele's agent Mamadi Fofana told the Daily Record recently that he believes the speculation around his client proves that things are looking up for all parties at Celtic Park.
Torres posts update on head injury
"If he has to leave, that will happen at the right time, but it's not in Moussa's head or my head," he said.
"In January, there was speculation, but there will always be speculation if he does well. It's good, it means we are all doing well. The boy is doing well, Celtic is doing well and we as agents are doing the right things for everyone."
But Dembele is now ready to make the most of the increased appeal by moving on from the Scottish champions, who currently sit a mammoth 27 points clear at the top of the Premiership thanks in part to the young striker's 17 goals in his first season north of the border.