England
Dele Alli net worth: Spurs & England star's salary, sponsorships & career earnings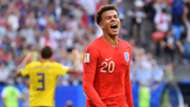 Dele Alli has emerged as one of Tottenham's superstars over the course of the last few seasons, and is one of the Premier League's breakout stars.
A Liverpool fan in his youth, the 22-year-old had a spell at MK Dons before leaving for Spurs – where he has set the country alight.
Spurs finished in third place in the league last season and though it wasn't one of the best campaigns for the young midfielder, it was a sign of plenty more things to come. 
The England international also did well to help take his side to a semi-final berth in the World Cup this summer, going above and beyond to defy all expectations that supporters had of the Three Lions going into Russia.
So how much does the forward make at Spurs, and what is his net worth? Goal takes a look.
---
How much does Alli earn?
---
No formal talks have taken place just yet, but Alli is set to sign a new contract at Tottenham that will increase his wages from his current salary of £60,000 per week to £100,000 per week.
Negotiations about a new salary for the midfielder – following in the footsteps of star striker Harry Kane, who signed a new contract in June 2018 – started as far back as January as the club look to keep him in their plans.
A new contract is likely to be brought up again following England's exit from the World Cup this summer, and would make Alli one of the north London club's top earners at just 22 years of age.
| Timeframe | Earnings |
| --- | --- |
| Per second | 17p |
| Per minute | £9.91 |
| Per hour | £595 |
| Per day | £14,286 |
| Per week | £100,000 |
| Per month | £400,000 |
| Per year | £4,800,000 |
---
What sponsorship deals does Alli have?
---
Alli has a number of lucrative deals with several brands, such as Adidas, believed to be worth in excess of £8 million over the course of five years (more than the value of his current Spurs contract). His favoured boot of choice is the Predator boot, as seen below. 
 In May 2018, Alli also announced that he would be launching his own fashion line with boohooMAN, the collaboration being his first foray into the world of fashion. The cost of the clothes range from £12-£60, although a limited edition jacket will cost £100. Advertisements of his clothing line appeared across the UK, which further propelled his profile as one of the most recognisable young stars in the UK.
The boohooMAN line already has teamed up with several leading names in pop culture such as American rapper French Montana, but the clothing deal with Alli is the first for the UK brand with a footballer. 
A post shared by Dele (@dele) on Jun 8, 2018 at 10:21am PDT
 Additionally, the 22-year-old has also teamed up with Puig-licensed fragrance brand Paco Rabanne for its #whosthegod campaign – promoting its merchandise during the duration of the World Cup.
---
How many social media followers does Alli have?
---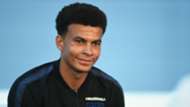 Kane's social media presence is formidable for a player of his age, but it is probably not surprising considering that he is playing for one of the biggest clubs in England. 
At the time of writing, the England international has 4.1m followers on Instagram, a platform that he updates regularly, giving an insight into his lifestyle; which appears to include plenty of social time with Spurs team-mate Kane.
He has 673k followers on Twitter and 569k likes on Facebook – neither quite hitting the million mark just yet.
---
What is Alli's net worth?
---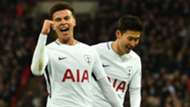 Alli's net worth is believed to be in the region of £5.3m ($7m).