Spain
David Villa never really retired - and now he can make another World Cup with Spain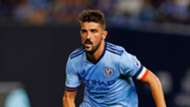 ---
COMMENT
---
His was a reluctant retirement. David Villa called time on his Spain career as La Roja crashed out of the 2014 World Cup in the group stages, but he never really wanted to go.
Villa played a pivotal part of Spain's success in winning Euro 2008 and the 2010 World Cup, before missing the Euro 2012 triumph as he failed to recover in time from a broken leg.
At the World Cup in Brazil, Diego Costa was preferred in Spain's two defeats against Netherlands and Chile. Villa did not even get on the pitch in those two matches, but did start the last group game against Australia and scored - only to leave the pitch amid anger and frustration in the 55th minute when he was hauled off by coach Vicente del Bosque.
The coach claimed he had not known it was Villa's last game, but the players did and there were emotional scenes as El Guaje went off. The striker was named Man of the Match and said afterwards: "Playing for the national team was my biggest dream and it fills me with pride."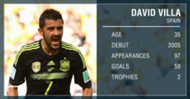 By then, he had already announced his decision to sign for New York City and at that time, such a move was seen as little more than a final payday - somewhere to see out your last few years after a successful career in Europe.
"I'm moving to a different football now," he said. "And I won't be competing for some time (the MLS season was set to start the following March), so it is logical that I won't be called up to the national team."
So Spain's top scorer, with 59 goals from 97 appearances, said goodbye to La Roja along with Xavi and Xabi Alonso as World Cup failure seemed like a curtain call for the team that had dominated world football between 2008 and 2012.
But Villa had not really retired. And following a loan spell in Australia late in 2014, he immediately impressed for New York City. He was announced as the club's first-ever player and scored their first-ever goal as well, in a friendly against St Mirren. In his first season, he then went on to score 18 goals - and he has not stopped scoring since.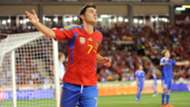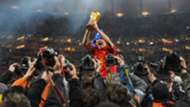 Villa admitted in 2015 that he would be keen on a return to international action with Spain, but he has had to wait. And after a prolific second season in New York brought 23 goals, his ratio in this third term is even better: 17 strikes in just 23 appearances. And now he is back with the Spain squad following a call-up for Saturday's game against Italy.
"Whenever a national team roster would come out in the past three years, the night before I would have butterflies in my stomach, think about waking up the next day and being on the list," Villa admitted after hearing Julen Lopetegui's decision.
"I never stopped thinking about it. I never thought about retiring, I always hoped for a call, but it did surprise me a lot. I know the manager had been coming to New York to see our games. I'm happy and grateful for the opportunity. I will try to do the best I can and not fail."
The 35-year-old is there on merit and with Diego Costa currently absent without leave amid his dispute with Chelsea, while others, such as Alvaro Morata and Paco Alcacer, have not really convinced over the past two years, there is no reason why Villa cannot make it to yet another World Cup with Spain.