WTF
David Beckham's family: Which of his kids could follow in his footballing footsteps?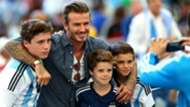 As soon as David Beckham and his wife Victoria welcomed their first child, Brooklyn, into the world, the speculation began: could we see another Beckham one day playing in the Premier League?
The Beckhams now have four children and hopes of seeing a successor to David in the England team were heightened when the three boys - Brooklyn, Romeo and Cruz - were signed up by Arsenal's academy.
What is David Beckham's net worth?
But with Brooklyn now 18 years old, how are they getting on?
---
BROOKLYN BECKHAM
---
Brooklyn was released by Arsenal in the summer of 2015 at age 16 after failing to earn a scholarship deal to remain with the Gunners.
According to the Daily Mirror, he had joined the academy later than most of his peers and it was expected, as a result, that he may always be playing catch-up to reach the level required to progress to professional terms.
Brooklyn did, however, earn a call to the Under-18 squad while some of the more regular players at that age group were away at a tournament in Dubai.
He was an unused substitute for a 1-0 victory against Leicester City in February of 2015, with Ainsley Maitland-Niles - who has since made his first-team debut - also on the bench for that game.
The 18-year-old is now exploring a career in photography and releasing his first book of images, titled 'What I See', in May.
---
ROMEO BECKHAM
---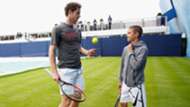 According to the Daily Mail, Romeo followed Brooklyn out of the Arsenal academy a few months after his brother had been released. He was 13 at the time and will turn 15 later this year.
A couple of months after that, David admitted his second child had decided against attempting to follow in his father's footsteps.
David Beckham Q&A: Your questions answered
"The other day Romeo turned round to me and said he didn't want to play football any more," the former England captain said. "Part of me was devastated but part of me was relieved, too. He's got other passions and I like that."
What exactly those passions are remains to be seen but Romeo has modelled for Burberry and also appears to be a keen tennis player. He even had the chance to knock a few balls about with Andy Murray at a practice session before last year's Aegon Championships, the Wimbledon warm-up tournament in London.
---
CRUZ BECKHAM
---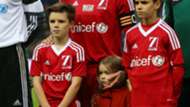 Cruz is only 12 and has also trained with Arsenal's academy, though his current status with the club is unknown.
It has been claimed that he is the most gifted footballer of the three boys but he, too, has proven himself to be multi-talented. Last year, he released a Christmas single - 'If Everyday was Christmas' - to raise funds for Make Some Noise, a charity supporting disadvantaged children in the UK.
Cruz had the help of Justin Bieber's manager Scooter Braun in promoting that single and has even received praise from Bieber himself after Victoria recorded him covering one of the Canadian's songs.
Young Cruz! Great job buddy #hometomama https://t.co/A7IvKhpQWE

— Justin Bieber (@justinbieber) November 22, 2016
He might be more likely to emulate his mother, then, than his father.
---
HARPER BECKHAM
---
Just because the boys appear to be leaning towards careers in arts and entertainment, however, does not mean that all hope is lost for another famous Beckham footballer.
David and Victoria's only daughter, in fact, appears to be taking to the sport just as quickly as her brothers did. Harper, now five, has been pictured getting her start in the game at a soccer camp in California.
Victoria revealed in 2015: "[Harper] said to me the other day: 'Mummy, I think I want to play football' - dagger through the heart. I have three boys who want to play football, come on, let one of them want to be in fashion!"
"It was the best thing I've ever heard," David countered. "We were outside playing football the other day and she had a really pretty dress on and a pair of big pink football boots, which I then sent Victoria the video, so I think that was also a dagger to the heart."