Real Madrid
D-day! Real Madrid & Atletico set to go to war over teenage talent Theo Hernandez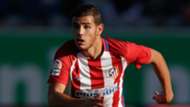 ---
COMMENT
---
It is the typical story in the build-up to a big game. This time, though, the rumour surrounding Real Madrid's interest in Atletico's on-loan defender Theo Hernandez appears to be more than the usual pre-match bluster. And the two teams are now set for a battle both on an off the pitch.
Simeone: I'm very happy with Theo
Spanish media claimed earlier in the week that Madrid have agreed to pay the release clause for Theo, an exciting left-back currently at Alaves, and that the player has agreed on a move to Atletico's fierce rivals.
Theo, who is the brother of Atletico centre-back Lucas Hernandez, has come on leaps and bounds during his loan spell in the Basque Country and is seen by Madrid as a possible back-up to Marcelo at the Santiago Bernabeu.
The 19-year-old is said to be keen on the move and barely reacted in a video when he was shown the Marca front page story on the possible summer switch. Asked about the reports earlier this week, Madrid coach Zinedine Zidane also did little to play down the speculation. "He's a good player," the Frenchman said. "There's no doubt about that."
Atletico appear to be in the dark over Madrid's pursuit of their player and club chief Enrique Cerezo said this week: "Whenever we are going to play a derby, something similar happens. People should be more serious. We do not lose time with such things. Nobody has asked us about Theo, about clauses, nothing at all. We do not know anything about this."
Zidane fuels Theo transfer talk
However, he did send a message to Real as he added: "If Madrid ask us about Theo, the answer would be energetic and determined. Theo is our player, on loan at Alaves, but our player."
For now, yes. But Theo has a release clause set at €24 million and that is a relatively small fee these days for a 19-year-old talent with such obvious potential. And if the player wants to go, there is little Atletico can do to stop him.
"Players play where they want to play," Cerezo admitted. And he refused to definitively dismiss the transfer, even though Madrid and Atletico are supposed to have a non-aggression pact which prevents players from moving between the two teams.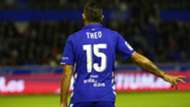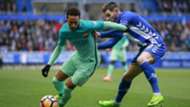 That agreement appeared to block Sergio Aguero from joining Real when he left Atletico in 2011, but it seems that Madrid are unconcerned on this occasion when it comes to trying to sign one of the brightest young stars at the Vicente Calderon.
Isco: Madrid can win Liga & Champions League
Initial reports in Spain claimed the matter would see Atletico boycott the traditional pre-match meal before the derby on Saturday, but Cerezo later rubbished those claims by confirming that the two boards would be dining together ahead of the game.
The subject of Theo is bound to come up in conversation and could mean a few tense moments around the table at lunchtime on Saturday. And even though Madrid have clearly turned the player's head with a promise of huge wages - reportedly around €5m per year - at the Bernabeu, Atletico will not give up the fight either and could tempt the full-back, who is a youth international with France, with the offer of a new contract with better money as well as a higher release clause.
Whatever happens, both teams are now in a scrap for the services of the 19-year-old iand this particular battle will go on well after the final whistle sounds in the derby on Saturday.