African All Stars
Crystal Palace's Wilfried Zaha can surpass Hazard, Sanchez - Roy Hodgson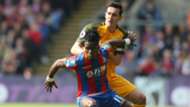 Crystal Palace manager Roy Hodgson has stated that Wilfried Zaha is capable of becoming a better player than Eden Hazard and Alexis Sanchez.
The tricky winger's presence has been influential in the Eagles' fight against relegation.
The 25-year-old produced another standout performance in Saturday's M23 derby with a brace - his sixth and seventh goals of the season - that gave his team a 3-2 win over Brighton and Hove Albion.
And regarding his dribbling skills and qualities, Hodgson is convinced that the Cote d'Ivoire international can compete with the some of league's best legs.
"He is very important, as he was last season when he stepped up to the plate and he helped the team to survive then," Hodgson said.
"He is doing his level best again to help us now and we can't ask any more of him, but his biggest question is that he has a lot of years ahead of him, so what is he going to do to get better?
"His dribbling ability and ability on the ball has been good for a long period of time, so what step can he take to get himself up there to be recognised the same as Alexis Sanchez or Eden Hazard?
"I believe that with his qualities, there's no reason he can't take that step and be even better, but of course this season he's going to be involved in a dogfight.
"You've probably only seen the best of him when the team are playing for their lives every Saturday."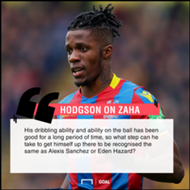 With four games left to play this season, Crystal Palace are placed 16th in the league table with six points adrift of relegation.