African All Stars
Crystal Palace star Wilfried Zaha bemoans referees' 'different treatment'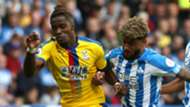 Crystal Palace winger Wilfried Zaha has lashed out at the 'different treatment' he receives from referees, stating that it restricts his ability to express himself.
Zaha's style of play has made him a target of rough treatments from opposing players but, according to the player, they hardly get penalised appropriately for such, thus, leading to his frustration.
On Saturday, the former Manchester United player was, again, at the centre of action as he led the Eagles to a win over Huddersfield Town on his return from a groin injury.
In the 27th minute, Mathias Jorgensen was booked by Lee Mason for upending him and Zaha himself was brandished a yellow card two minutes later for another foul.
"I don't even know what to say anymore," Zaha said after the game.
"I feel like before anyone gets a red card I'd have to get my leg broken. That's why I lose my head; some of these yellow cards like the one against Watford, the guy stood on the back of my calf and it's still a yellow card.
"Why am I getting different treatment from other players? I just don't understand it. It's every week, every referee.
"It makes you not want to go on a run because someone will come through the back of you, and it doesn't allow you to express yourself.
"At the same time, I have to let my feet do the talking which I did today."