Primera División
Cristiano who?! Messi is La Liga's ultimate points winner this season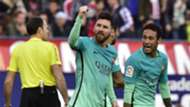 Despite all the talk of Barcelona's imminent undoing, their biggest superstar is still leading by example in La Liga.
Lionel Messi struck late to secure all three points for Barca in a 2-1 win at Atletico Madrid on Sunday, and his 86th-minute strike meant his side has directly earned 12 points from his 20 goals in La Liga this season - more than any other player.
Atletico boss: We're trying to sign Messi!
Additionally, the win was Messi's 400th of his Barcelona career in all competitions, no doubt helped along by his love for scoring goals at the Vicente Calderon. The Argentine has scored 13 times at Atletico's home stadium, which is the most he has scored at an away stadium.
Messi doesn't just like scoring on Atletico away from home as he has struck for 22 total goals against the Madrid side in La Liga.
It doesn't seem to matter who is on the sidelines for the Rojiblancos either, as only Cristiano Ronaldo has scored more goals (nine) against Atletico in the Spanish top flight under Diego Simeone than Messi's eight.
Needless to say, if Messi is lining up against Atletico Madrid then you can expect goals from the Barca star.