Gabriel Jesus
'Cristiano Ronaldo knows when it's bedtime!' - How Gabriel Jesus became a Brazilian superstar
Allan Brito & Rodrigo Hoschett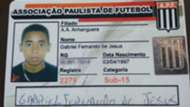 ---

SPECIAL REPORT
---
The Anhanguera football club was founded in a central district of Sao Paulo in 1928. Almost 90 years on, the surroundings have changed but the atmosphere at Anhanguera remains the same. The nostalgia in the air is almost palpable. The club's footballing culture remains rooted in a bygone era. But that's no bad thing. On the contrary, the ancient methods of Anhanguera were essential to the development of a modern-day superstar, Gabriel Jesus.
Gabriel's passage through the Anhanguera youth ranks was down to a project initiated in 2011 by Sidney and Fabio Caran, a father-and-son team who wanted to support youngsters between the ages of 13 and 17 and give them the best possible chance at a brighter future. It was born not of a cynical attempt to make a fast buck but their desire to build something long-lasting.
"Anhanguera is old-fashioned but the name means something," Fabio explains in an exclusive interview with Goal . "The club is not rich but the name has value.
"Our method is teaching boys the fundamentals of the game," Sidney adds. "For us, the most important thing is to be able to use both feet - and the head."
'Gabriel Jesus can help Neymar'
After Brazil's brutal semi-final exit at the hands of Germany at the 2014 World Cup, the pervading public opinion was that the nation had lost its way; forgotten the very basics that had made them so great. It was argued that in an attempt to modernise, old-school values had been overlooked, resulting in the Selecao being represented by players less rounded than their illustrious predecessors.
"We have had a difficult time since the 7-1 loss to Germany and Brazilian football today is confused," explains Bruno Petri, a coach who worked for top Brasileiro Serie A sides yet is now plying his trade at Anhanguera.
"There is the professional approach that deals with the modern aspects of the game but there are also specific issues within each player. We believe that addressing these specific issues is important because one needs to understand the athlete, his needs and what he must do to evolve.
"The big clubs have a hard time doing that because there is the league and not much time for anything else."
Campo do Anhanguera is a synthetic grass (Photo: Rodrigo Hoschett / Goal Brazil)
The young Gabriel Jesus would have run the risk of falling victim to this obvious systemic flaw had he not joined Anhanguera. After all, it was there that he became more balanced and rounded, both as a player and an individual.
When the Manchester City striker arrived at Anhanguera, he was heavily reliant on his right foot, a poor header of the ball and too preoccupied with taking on opponents. Sidney and Fabio quickly set about rectifying those defects.
The got him to spend hours striking the ball against a wall with his left foot. They also instructed him to make use of a device called ' Forca ' that had a ball attached to the top and enabled players to work on the strength and direction of their headers.
Tite: Pep has Brazil to thank for Jesus
"All he wanted to do was run at players," Sidney reminisces. "We talked about that beating his man was not the goal; that the goal was to practice the fundamentals of the game.
"I said to him, 'Gabriel, what do you want? To do tricks and flicks? If you don't want to play the game seriously, get out of here'."
It wasn't an empty threat. Sidney even withdrew Gabriel from a game in which he'd already scored a hat-trick because the youngster was starting to showboat.
"I warned him twice," Sidney explains. "He did not answer, so I took him off. He was sad and upset. But, later, in the locker room, I told him that he cannot be like that. He has to be simple and effective."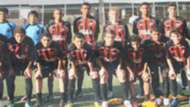 Gabriel Jesus, standing, is third from left to right (Photo: Reproduction)
As Gabriel began to develop as a person, he became more disciplined, fully dedicated to his craft. Even during the holidays, he would train with Fabio three times a week for three hours at a time.
His drive was remarkable. Goalkeeping coach Douglas says Gabriel would often practice twice a day, in the morning and the afternoon, while International shot-stopper Wagner remembers getting into a row with the young striker because of his insatiable will to win.
Sidney could not have been prouder with the change in attitude, given he had seen two other equally promising protégés fall by the wayside because of a lack of application.
"I give him the example of Cristiano Ronaldo," he reveals. "He throws a party at home but then gets up and leaves his friends when it's his bedtime!"
Jesus: It's an honour to know Guardiola
Fabio then interjects, "I joked, 'If Cristiano Ronaldo, a millionaire four-time Ballon d'Or winner does that, then imagine what we here in Anhanguera have to do to make it to the top!'"
Once Gabriel had the right temperament to go with his undoubted talent, Fabio knew that the time had come for him to leave Anhanguera.
Despite being a fan of Corinthians, Fabio decided to call a scout from rivals Palmeiras, family friend Jaime Melo, who promptly arrived to watch the prodigy play.
Fabio enthuses, "In five minutes, Jaime turned to me and said, 'This kid is different. I don't need to see any more'. I said, 'You're joking! You're f*****g with me!'" But he quickly took him on board."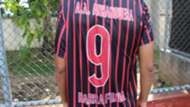 Gabriel was the 9th shirt of Anhanguera (Photo: Rodrigo Hoschett / Goal Brazil)
Today Fabio and Jaime are understandably proud of the player that Gabriel has become - and the role they played in his fledgling career.
Fabio happily boasts: "I had a WhatsApp conversation with some friends in December 2014 and I told them that Gabriel was going to play at the 2016 Olympics. They said that I was crazy!"
Fabio had the last laugh, though. Gabriel did play in Rio, and he shone, playing a key role in the host nation winning the only prize which had always eluded them.
Pep offers positive Jesus update
Jaime, meanwhile, believes that greatness beckons for the 20-year-old, confident that Gabriel is now in the care of a coach capable of turning him into an even better player. "With Pep Guardiola, he will reach the level of Neymar and Leo Messi," he recently told Uol .
Anything could happen in the future, of course, but what is certain is that Gabriel has already left his mark on Anhanguera. As Fabio proudly says, "He's the benchmark for us now. He's the one who worked and fought to come out of nowhere. There are now four players here from his community."
In other words, the past and the future continue to live in perfect harmony in Anhanguera.