Transfers
Courtois on potential Real Madrid move: It's a delicate situation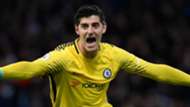 Thibaut Courtois says he is relaxed regarding his potential transfer from Chelsea to Real Madrid.
The Belgium international has been consistently linked with a move to the Spanish champions, who appear determined to finally strengthen their goalkeeping position.
Courtois' agent has called on Chelsea to allow his client to move to Real, with the stopper keen to return to Spain, where he previously played for Atletico Madrid.
"I have been reading everywhere that Chelsea are saying it is up to Thibaut, but he has made it clear to the club that the best option for him is to move to Madrid," Christophe Henrotay said, according to The Sun.
"For him this is a big decision because he wants to be near his family, and there is an offer in place for Chelsea to accept."
Goal understands that Real are waiting on Chelsea's search for a replacement for Courtois before a £35 million ($45m) deal can be completed.
Both Real and Chelsea had wanted to sign Alisson from Roma, though he eventually joined Liverpool.
Courtois has just one year left on his current Chelsea deal and has thus far rejected the Blues' offers of a new deal. A transfer for Courtois thus appears inevitable.
Courtois maintains that he is remaining relaxed over the potential transfer, with Maurizio Sarri reportedly holding talks with the 26-year-old following their Community Shield defeat to Manchester City.
"My transfer? I am not going to say anything about that now, it is a delicate situation," he told Belgian press.
"I cannot say much, I am not thinking about that, I am calm and becoming anxious would not help. What is important is to be ready for next season."
Courtois has spent seven years at Chelsea, though he also spent three on loan at Atletico.
The 25-year-old has made over 150 appearances for Chelsea, winning two Premier League titles, the FA Cup and the League Cup. He has also won La Liga with Atleti, along with the Europa League, Copa del Rey and the UEFA Super Cup. He was also a part of Atletico's 2013-14 team, which reached the Champions League final, only to lose to Real.