India U20
COTIF Cup: India U20s edged out by Murcia in tournament opener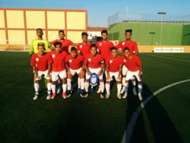 The India U20 national team were beaten 2-0 by Murcia U20 on Sunday in the opening game of the COTIF Cup in Valencia, Spain. 
The team, which consisted of a mix of boys who represented the country in the FIFA U-17 World Cup and the AFC U-19 Qualifiers in 2017, saw goals in either half by Murcia condemn them to a loss. 
To compound coach Floyd Pinto's worries, Jitendra Singh and Anwar Ali picked up red cards, which meant India played the final 15 minutes with just nine men. 
Interestingly, the match got off a bad start for Murcia when they were reduced to 10 men in the fourth minute. India then had a couple of chances to take the lead before Murcia scored the opener in the 27th minute from a free-kick situation. 
Abhijit Sarkar went close to equalising before the 40-minute half ended. 
India were dealt two setbacks in the second half as Anwar Ali and Jitendra Singh, two defenders, were sent off within the space of nine minutes. Murcia made their numerical advantage count by doubling the lead at the very end of the game. 
India will play Mauritania U20 on July 31st next before locking horns with Venezuela and Argentina.