African All Stars
Copa Coca-Cola Abuja regional finals Wrap: Niger overcome Kaduna as Kano hold Benue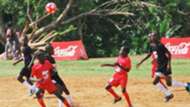 Kaduna 0-2 Niger
Ndayako Day Secondary School, Bida of Niger State stepped up their qualification chase defeating Christ Comprehensive Secondary School, Kakuri of Kaduna State 2-0 at the Government Secondary School, Jabi field on Wednesday.
Having crumbled to Kano on Tuesday, a goal in each half from Usman Sakyara helped the Niger boys overcame their opponent from Kaduna at the Government Secondary School, Jabi field.
Sakyara opened scoring for the Ndayako boys five minutes into the start of the match to secure a narrow lead in the first half despite the fruitless comeback fight from the Kaduna boys.
In the second half, Sakyara added the second in the dying moments of the encounter to seal maximum points for the Niger boys and revived their quest to reach the national finals.
With the win, Niger now has three points from two games in third position, while Kaduna are bottom of the log with one point from similar matches.
Benue 2-2 Kano
Mgabwa Community Secondary School, Lessel of Benue surrendered a two goal lead to play out a 2-2 against Government Secondary School, Gwale of Kano State.
Like they twice fell from leading position to share the spoils with Kaduna, the Benue boys yet again failed to secure their first win in a four-goal thriller at the Abuja regional finals.
Goals from Auwal Muhammed and Saifullahi Ibrahimhelped the Kano boys canceled Benue's opening strikes from Shrisha Johnmark and Agbe Gabriel at the GSS, Jabi field.
Johnmark struck from set piece to snatch the lead for Mgabwa two minutes into the contest before Gabriel added the second inside the opening 15 minutes but Muhammed scored from a free spot to pull one back for the GSS, Gwale.
On return from the recess, the Lessel based boys fought hard to defend their narrow lead as the Kano side came close twice but were denied by the woodwork.
Meanwhile, the breakthrough came for GSS of Kano, when Ibrahim curled in a well-placed strike into the right corner to secure a leveler on the brink of full time to secure a draw.
The draw leaves Benue with two points are fourth on the log, while Kano boasts of four points are topping the standing after two games.