African All Stars
Copa Coca-Cola Abuja Regional finals Preview: Kano, Benue and Niger jostle for ticket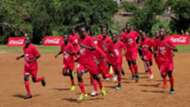 Kano vs. Kaduna
 
Government Secondary School, Gwale of Kano State will seek victory against Christ Comprehensive College, Kakuri of Kaduna State to clinch a qualification slot at the Abuja regional finals.
 
After escaping defeat in 2-2 draw against Benue, the Kano boys, who brags with four points from two matches, will hope to avoid crumbling to their neigbours on Thursday.
 
With one point from two games, Kaduna, on the other hand, will be aiming for a big win over the Kano boys to put themselves in contention for the highly contested top spot.
  
 
Benue vs. Niger
 
Mbagwa Community Secondary School of Benue State will be seeking to grab maximum points against four-point holders Ndayako Day Secondary School of Niger State on Thursday.
 
The Lessel based boys had failed to win in two opening game garnering two points and their focus will be tilted to conquering their opposite from Bida to raise their qualification prospect.
 
Regional leaders, Niger, on their own part, will be hoping to replicate their good display in Wednesday's 2-0 victory over Kaduna when they battle Benue.