Chelsea
Confusion reigns at Chelsea as Conte to return to training despite Sarri being lined up as replacement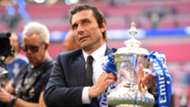 Antonio Conte is expected to return to Chelsea to take first-team training on Monday despite uncertainty over his future at the club.
The Blues manager's staff didn't take the sessions on Saturday, as fitness coaches assessed the squad for two days of medical testing at Cobham training ground.
Chelsea's players remain unclear on who will take training when the technical work begins.
Alvaro Morata, Pedro, Cesc Fabregas, Marcos Alonso, Davide Zappacosta, Emerson Palmieri, Tiemoue Bakayoko, Danny Drinkwater and Ross Barkley returned on Saturday as they weren't playing in this summer's World Cup.
The first-team players will be joined by select members of the loan squad, who will have decisions delayed on their moves with Chelsea wanting to take a closer look at them. However, the players are unaware of the situation and are faced with waiting until Monday to see who will be running their session.
Conte is likely to take training unless firm action is taken on replacing him as talks continue between Napoli and Chelsea over securing Maurizio Sarri to takeover at Stamford Bridge.
An agreement in principle is in place to bring Sarri to West London, but Chelsea still need to work with Napoli to secure his release from his contract.
The Serie A side's president Aurelio De Laurentiis has been holding out for the £7 million ($9.2m) release clause, with lawyers continuing to work to secure the move that both the London club and Sarri want.
Conte is also holding out for his £9m and intends to work his last year of his contract unless he gets it, having not had any concrete offers from other clubs and after turning down Italy's interest in re-appointing him.
For their part, Napoli have already replaced Sarri with former Blues manager Carlo Ancelotti, who started the new role on July 1.
Chelsea's transfer business has been stalled, with the transfer window for Premier League clubs now being set at August 9, giving them four more weeks to bolster their squad.
CSKA Moscow midfielder and Russia World Cup star Aleksandr Golovin looks very likely to become the club's first addition of the summer for a fee of around £27m ($35.7m), with Juventus's Daniele Rugani having also had talks over a move.
Chelsea have alternative options in place should the talks with Sarri collapse, with ex-Paris Saint-Germain head coach Laurent Blanc likely to be the next in line to take charge.