Transfers
Coetzee returns to training, apologizes to Ajax Cape Town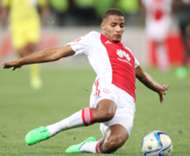 Ajax Cape Town defender Rivaldo Coetzee, who has been linked with Mamelodi Sundowns and Kaizer Chiefs, has resumed training with his teammates.
The 20-year-old player refused to report to Ikamva for the Ajax's pre-season training, in bid to reportedly force a move away from the Mother City side.
On Tuesday, Ajax announced that Coetzee had reaffirmed his commitment to the club by returning to Ikamva and he will train with the club's MultiChoice Diski Challenge team.
This is after the Bafana Bafana international contacted Ajax chief executive officer Ari Efstathiou, urgently requesting a meeting on his return from Europe.
Coetzee and the club boss had a meeting to discuss the player's decision to go AWOL for three weeks. 
"Rivaldo offered a heartfelt apology to the club, the staff, coaches, teammates and to our fans, one which we have accepted," said Efstathiou on the club's official website.
"We are happy that he has taken responsibility for his actions in a mature manner and accepted any decision made by the DC regarding his absence from training since the start of pre-season (3 July 2017)," he concluded.
Ajax's first-team is currently camping in Gauteng as they continue their preparations for the upcoming 2017/18 PSL campaign.