African All Stars
Every single Everton player must emulate Oumar Niasse - David Unsworth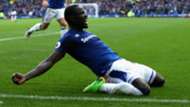 Everton coach David Unsworth has lauded the 'desire and 'determination' of Oumar Niasse.
The 27-year-old who endured a torrid spell under erstwhile manager Ronald Koeman was demoted to the U23 side, where Unsworth 'had the privilege' to help him to 10 goals in eight outings.
And with Niasse back in the first team fold - but now, with the 44-year-old Englishman at the helms - he has shown no signs of slowing down after delivering a goal and a spirited 90-minute performance in Everton's dramatic 3-2 victory over Watford.
And Unsworth said the former Lokomotiv Moscow marksman - who has four goals in 287 minutes from six English Premier League games this season - is a model to how he wants 'every single' Everton player to do their job.
"Oumar has desire, determination, and that willingness to run and run until you drop," Unsworth told EvertonTv.
"That is a pre-requisite for how I want every single player to go about their job. He is a great guy as well.
"I have had the privilege of working alongside him and now all his hard work is paying off in performances and goals.
"He is a handful because he never stops running. His fitness is so good, he works tirelessly for the team – he is a team-player and that is what this Club has been built on."
Boasting of the best minutes-to-goals ratio in the Premier League this term, Niasse will hope to keep up his feat when Everton take on bottom-placed
Crystal Palace
at Selhurst Park as Unsworth's men gun for a second consecutive win on Saturday.