Mexico
Chicharito questionable for Trinidad and Tobago game, Damm out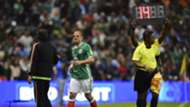 MEXICO CITY — The record-breaking moment may have to wait.
After scoring in the seventh minute of Mexico's 2-0 win over Costa Rica on Friday to tie Mexico's all-times scoring record, Javier "Chicharito" Hernandez left the contest in the 66th minute with a knock. He's questionable for Tuesday's game, and isn't the only name added to El Tri's considerable injury list after the victory.
Mexico tops Hex for first time in 12 years
Tigres winger Jurgen Damm, who came on at halftime and was inserted to keep Costa Rica's left wingback Ronald Matarrita occupied by attacks going forward, is out for Tuesday's contest.
"We made this modification at halftime, and it gave us really good results," Osorio said of bringing on Damm for Oribe Peralta. "Matarrita never could get forward to join the attack, Jurgen was always a threat. It was a a really good performance from him, but unfortunately he went off injured and won't don't think he'll be there.
"Javier, there are possabilities."
Chicharito takes place among El Tri greats
The next goal the Bayer Leverkusen striker scores will take his goal tally to 47, making him Mexico's all-time leading scorer. But the forward said that while he's grateful for the mark, he and the team are staying focused on the broader picture.
"It was really important to win," he said after the Costa Rica match. "Now we must think about Trinidad and Tobago because we respect every opponent, and this has been key to our success."