Transfers
Chicharito denies reports he wants to leave West Ham for Chivas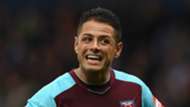 West Ham striker Javier "Chicharito" Hernandez has denied reports he wants to leave England to re-join Chivas. 
Hernandez began his career with Chivas before leaving his hometown club in 2010 to sign with Manchester United. 
Chicharito 11/8 to score v Watford
The Mexico striker subsequently took in spells at Real Madrid and Bayer Leverkusen, before moving to West Ham in July for a £16 million fee. 
The Hammers are off to an awful start in Premier League play, sitting in 18th place and having recently hired David Moyes as manager after sacking Slaven Bilic.
With turmoil at his club, reports in Mexico stated the striker is looking to make a fresh start at Chivas and maintain his form ahead of this summer's World Cup. 
But the 29-year-old took to Twitter to swiftly reject any suggestion he was looking to leave London. 
Completamente falso. Estoy 100% comprometido en ayudar a mejorar la situación que estamos viviendo todos en West Ham. Y como siempre lo digo soy #chivadecorazón pero no he pedido salir del West Ham en ningún momento. https://t.co/rzeXeqRdGU

— Chicharito Hernandez (@CH14_) November 16, 2017
"Completely false," Hernandez wrote of the reports. "I am 100 per cent committed to helping improve the situation we're in at West Ham. I've always said that I have Chivas in my heart, but I have never asked to leave West Ham at any time."
Hernandez has scored four goals in 13 total appearances for West Ham this season.