Indian Super League
'Refreshed and buzzing' - Chennaiyin FC's John Gregory ready for ISL title defence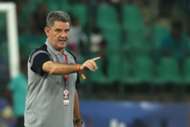 John Gregory, who masterminded Chennaiyin FC's Indian Super League (ISL) triumph in the 2017-18 season, is all set to defend the title in what is set to be an interesting 2018-19 season. With certain tweaks to the set-up, the coach is geared up for what he believes will be a tough challenge. 
"It is difficult to retain the title. It has never been done in the ISL before," Gregory told Goal ahead of the team's pre-season tour to Malaysia. "We want to be the first team to do it. That's why we are here. 
"That's why we have come back to Chennaiyin and try and repeat the success from last season. It is not going to be easy by any stretch of the imagination but we'll see how good we are. If we won it once, we need to win it again. It's going to be tough but we will be up for it."
The success from last year, where they defeated Bengaluru FC 3-2 in Bengaluru in the final to clinch the title, is still playing on the Englishman's minds and he attributes his decision to come back to that. "Winning last year was such an amazing experience. I really don't think the feeling has sunk in even now. I have still not seen the final again. I've seen the highlights - bits and pieces. But I've not sat down and watched the finals. I'm still buzzing from last year. The summer really has got me more excited. I've wanted to come back and we've made some new signings as well."
The Super Machans are set to fly out to Malaysia on Sunday night for their pre-season preparations. John Gregory can't wait for it to start and underlined the importance of the same.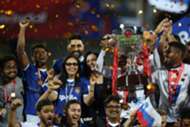 "Amoy Ghoshal (Chief Technical Officier, Chennaiyin FC) has taken responsibility of the location and fixtures. The facilities and location are first class. The humidity is very similar to India which we felt was important. There were many places to which we could have gone. But we think this was right for us.
"Thailand worked out well for us last year and this will be an important time for us. We do have new people in squad and it is a great time where we are all locked into a hotel together. They will be training together and have dinner together. So, the new players will get to know how we work and we will get to know them at close quarters on the training ground.
"It is also a chance for the medical department to assess everybody's fitness levels and ensure everyone's fit when the season starts. The group that we had last year formed into a tight unit in Thailand. We got to know each other's training habits and we carried on from there. It is a great chance for me to work in team formations."
One of the notable changes to Chennaiyin FC support staff list is that they have two new coaches in Englishman Paul Groves and goalkeeping coach Kevin Hitchcock. Gregory lauded their presence in the team, noting the inspiration behind the same was legendary United coach Alex Ferguson.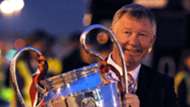 "I've got two new coaches in as well. They are in a situation where they do not know much about the Indian players and conditions. So, it is a good opportunity for them and also the players. They will be working with new coaches now. Yeah, they will be working with me but the players will have new coaches - a goalkeeping coach and a footballing coach. They bring in new ideas. If you look at Sir Alex Ferguson at Manchester United, he used to have different assistant coaches during his time at United. He changed them after a while. He worked with Brian Kidd, Walter Smith, Steve McClaren, Carlos Queiroz, Mike Phelan, Rene Muelensteen etc.
"He was also changing coaches and they bring in new techniques. Every couple of years, Fergie changed it. So, that is my thinking behind bringing new coaches. So, even the players who were here last year will see new ideas and different training methods this time around. It freshens it all about. We did that with the players too. We wanted a couple of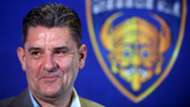 new faces, change it up a bit. It's a like a fresh coat of paint," reasoned Gregory. 
Chennaiyin FC have signed five foreigners so far and are in talks to sign two more, of which one could be an attacker, confirmed Gregory. 
"We are talking to four-to-five players and we hope to close them in the next week. We have a few more games this year with the AFC Cup but we are focusing on the ISL this year. That to us is the most important trophy to try and win.
"Last year, I had a very regular squad but I think this year, our fringe players will also get chances. We have to change or manage things a bit different year given the AFC Cup and possibly other tournaments. 
"We got alternatives that we might want to look at. We have (Mohammed) Rafi as well who has scored vital goals, especially against Jamshedpur last season. He's got that ability. One of the reasons why we retained him was that he trains well and is an exceptional professionalism. So between him and Jeje, we might add another one. Or it could be a midfielder or a defender."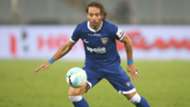 The 64-year-old was also full of praise for right-back Inigo Calderon whom they team managed to retain for this year, claiming he slept well after securing the services of the Spaniard. 
"If you look back at the ISL final, Inigo Calderon has not been highlighted enough. He made a crucial header that made me go 'How on earth has this man got his head on it!' He got a slightest of touch and it was a turning point in the game in many respects.
"As a person, a teammate and a professional, he joins in everything and is a leader in the squad. He's the kind of guy, whom you are proud of having in your team and he is a great footballer.
"I slept well the night he re-signed. I was in touch with Amoy that night, making sure we got Inigo signed and when he signed, it was a huge weight off my mind. He plays like captain every weekend, even when Sereno had the armband."
The former Aston Villa boss also had words of praise for the youngsters in the team, Jerry Lalrinzuala and Anirudh Thapa. "Jerry had a great season last year. He improved throughout the season. It's tough for a young kid coming into the first team. He played every game except for the final game of the league. 
"The same case with Anirudh Thapa. He probably didn't get as many minutes as he would have wanted but he has certainly improved. He's a better player than what he was last year. I expect the same from him this year. He has to keep moving and improving. People like Rooney and Ronaldo - they got better and better every year. That's what Jerry and Thapa need to do. Now they have got competition as well from youngsters looking to get into their positions. They need to be on top of their game."
"That's why we have come back to Chennaiyin and try and repeat the success from last season. It is not going to be easy by any stretch of the imagination but we'll see how good we are. If we won it once, we need to win it again. It's going to be tough but we will be up for it."