Antonio Conte
Chelsea must not relax as they are still not a blazing inferno, says Conte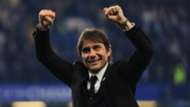 Antonio Conte said upon his unveiling as Chelsea manager that he saw a "small flame flickering that can grow into a blazing inferno," but he admits that he is still not satisfied despite getting his hands on the Premier League trophy. 
Chelsea will lift the title, regardless of the result, as they face Sunderland at Stamford Bridge in their final game of the season. 
Zlatan 'ready' for Europa League final
Conte doesn't want his players to lose their passion or relax as a result of their success in the first season of their new manager. He thinks that his players will go from winners to losers, if they chose to rest on their laurels. 
"Yeah, but I think that we started to light the fire. This is very important. If you want to be a good season, you must have always this fire in your soul, in your heart, in your head. It's very important. I think that, about me, we have just started this.
"It's very difficult to answer this question because, now, I repeat, it's important to be focused on finishing the league. Then, together with the club, we have to take the best decision for next season.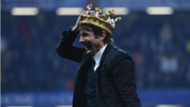 "It's normal because, I repeat, we must have a winning mentality. If you have the winning mentality, you want to continue to win every season. It's not easy because, above all in England, there are many teams who want to do the same things.
"But we have to continue to work very hard, maybe stronger than this season, to try to repeat a good season. But when you have the winning mentality and you want to win every game... if there is someone that is happy to see his past, then he's not a winner. He's a loser.
"The past is good. The past is beautiful if you won in your past. You can see your past. But, in the present and the future, it's not important if you are a winner. If you are a loser then you always stay looking behind you and you won't win.
"But for me I hate this word: 'relaxed'. Relax, relax... I hate this word. I prefer to tell you and use this word 'enjoy' instead. Enjoy your achievement. We had a path, a very difficult path, this season so it's important to enjoy the win with the players, the club and the fans.
We worked very hard. But relax? No. I don't like this. I want people who stay, every day, concentrated and preparing for a new win."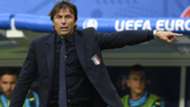 Conte went onto reveal that his favourite drink to celebrate with is red wine and that he and his players will earn a bonus from Chelsea for their success. 
The former Italy head coach admits that he is going to enjoy a relaxing holiday after the season is over, as he moved quickly from Euro 2016 into a Premier League season in a new country. 
"I think maybe to buy a house in Italy," Conte said when asked what he might do with his bonus. "Yes. Yeah, in Lecce I have all my parents and, for sure, I hope to spend a bit of time in Lecce on my holidays, to go to Turin and also to Italy."
"[I want a] Very calm holiday. For me, it's an opportunity because, in the last season, I had no chance to have a holiday because we started after three days from the Euro with Chelsea. I have spent a few days with my parents and the place I was born."