Chelsea
Chelsea loanee Ola Aina chose Nigeria because of John Obi Mikel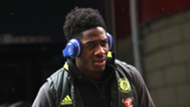 Ola Aina has revealed how his former Chelsea team-mate John Obi Mikel helped him to make his decision as he verges on his debut for Nigeria. 
The 20-year-old has been working on switching allegiances from England to the Super Eagles for over the year as both his parents hail from Nigeria, despite him being born in London. 
The Chelsea youngster is now on loan at Hull City in the Championship but he has represented England at youth level, before he made the switch. The defender revealed how Nigeria's captain and a legend of the national team helped him to make up his mind. 
"The one person that I would say has been an influence to me a little bit is John Obi Mikel," Aina told Goal. "I was first talking to him three years ago about it [playing for Nigeria]. Last season, the season before and the season before that.
"Two years on, it has finally happened. Anything that comes from Obi is respected and I was happy that he invited me to come and join the team. He is very respected. He is our skipper, he is our captain. Every respects him entirely as they should. He is loved throughout the camp.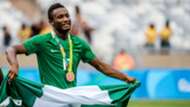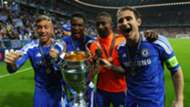 "My family are also very proud Nigerians and they are happy to see me play for the Super Eagles. I am happy with it as well. On my parent's side, they just support whatever decision that I decide to make in my career. They give me advice and whatnot but they ultimately just support the decisions that I make.
"Me and Victor [Moses] are very close too. Obviously, I spent the whole season with him last season. We built up a bit of a bond. He is an important player but so is everyone else here.
"It was a wholehearted decision that I made but it wasn't tough, to choose Nigeria. It was an easy decision to make because, for one, my ethnic origin is Nigerian. Secondly, it is an opportunity that I couldn't really turn down. We have got a good squad, a good team and good staff.
"It is looking like we will qualify for another World Cup. For me to be part of that, is always a dream. I am just waiting for a few more approvals now and then we are good to go. I can't put my finger on it right now but hopefully I will make my debut very soon."
Nigeria are currently top of Group B in the World Cup qualifier after winning both of their opening games against Algeria and Zambia. They now face a double header against Cameroon in September. 
Aina was expecting to be able to play in the upcoming days but he has yet to get clearance from FIFA, despite having gotten a Nigerian passport. He could be available for the next international break and continues to train with the first team as he has done throughout 2017. 
Meanwhile, Aina is in his first ever loan spell from his parent club and after five starts in Hull's first five games, he outlines his aims to win the Championship this season. 
"Hull City is a good place for me because as people may know, I am a quiet guy. I just like to chill out and that area reflects me as a person. It is just really chilled and laid back. The lads are good, the area is nice, I have been welcomed into the team with open arms.
"I am happy there and most important of all, I am getting some game time. It is all looking good for me right now. I just wanna be playing regularly, playing well. I want to stay fit. Even if it was another team, my main decision was just to play enough games.
"I just need enough competitive games, enough games to challenge my ability and to make me a better player. What I have learnt so far is just knowing when and where to do things. Such as when and where to do skills, when and where to put the ball out or when and where to stick a ball down the line.
Ola Aina got initiated to the Super Eagles ..Welcome bro !! pic.twitter.com/nqFNQQQZuU

— John Ogu (@ogujohnugo) August 29, 2017
"I have learned to be disciplined with my football. That's what I have learned so far. We would love to win the league but if we have to go through the play-offs to get promoted then I don't think that's a bad thing either. Our goal is just to get promoted to the Premier League."
Aina may not be ready to play for the Super Eagles but his future looks bright for both club and country. Even though the Chelsea loanee can't play for his country, he was happy to make a good first impression as he was encouraged to sing his initiation song in front of the likes of Mikel, Alex Iwobi and Kelechi Iheanacho.
"It wasn't nerve racking [singing my initiation]. At first I was nervous, when meeting the team but everyone has been so welcoming. They are good to be around and they make you feel comfortable straight away. I wasn't scared by that point *laughs* and it was all good banter.
"It gets the camp buzzing just a little bit more. I am not a singer but I think I did pretty well from everyone's reactions. They joined in so I think it was good."