Brazil v Colombia
Chapecoense tragedy shows that football can unite the world and spread love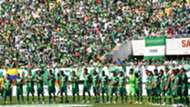 ---
COMMENT
---
On Wednesday, Brazil meet Colombia in a fundraising friendly to support the families of those who perished in November's tragic Chapecoense air disaster.
Brazilian football lost more than footballers, coaches and journalists that night.
They were friends and cousins. They were siblings and grandsons. They were lovers. They were fathers. They were sons.
They were also footballers who had shown Brazil another way. A period of big-spending on big names had seen Brazil's big clubs woefully underperform on the biggest stage in recent years.
With budgets that dwarfed neighbouring nations, Brazilian clubs should have been dominating South America, but collectively they brought little other than disappointment. The only joy arrived when one traditional Brazilian superpower laughed at another.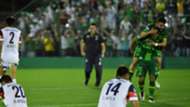 All the while, Chapecoense went about their business quietly. Their incredible rise from Brazil's lower divisions to the 2016 Copa Sudamericana final made them the first Brazilian club to make it to a major continental final in three years.
Yet still, few paid much attention. Bigger clubs were playing smaller competitions, and the big boys took precedence.
A humble club from a humble town had put together a humble team of humble players. And together, through hard work, determination, commitment and togetherness, they came within a plane journey of a footballing dream.
Whether anyone was paying attention or not, Chapecoense were setting an example.
And they will not change their ethos, despite the tragedy.
"We are ruling out bringing established or famous players because we never had footballers who fit that profile," said president Ivan Tozzo after the likes of Ronaldinho had kindly offered his services to help the club get back on its feet.
"Everyone knows we are of modest means and we don't have the resources to pay large fortunes like other big clubs can. We will probably go after young professionals in the second division or those who were not chosen by other first division clubs."
And their achievements will once again be celebrated on Wednesday.
Brazil coach Tite admitted that the result of Wednesday's friendly versus Colombia at the Nilton Santos Stadium in Rio de Janeiro will be irrelevant.
"As a human being, the result doesn't matter to me," said Tite after naming a Brazil squad restricted to domestic-based players due to the match falling outside of a designated FIFA international window.
Limitless column inches this week have included the obligatory footnote that this game 'is not about football'.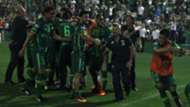 But it is. It's very much about football. It's more about football than most football matches have ever been.
Wednesday offers another chance to help heal and mourn collectively.
It offers a chance for people to stand with those affected - with the families, with those closest to those who tragically and needlessly lost their lives. To offer their support to the lives that stopped that evening, lives that are struggling to start again.
After a year which has seen leading nations across the globe preach little more than divisiveness, this tragedy brought people together, in an outpouring of compassion that reminded us that all was not lost. That people felt. That people cared for others, regardless of nationality, race, religion, colour or creed.
When Brazilian football returned following the tragedy, the partisanship that so dominates the local game was shelved. Every single club wore a message for Chape on their shirts. As did countless others from around the globe.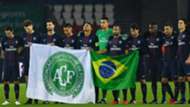 The football world came together as one. From Lionel Messi and Cristiano Ronaldo to part-timers, from devoted fans to casual observers, condolences were offered with sincerity.
The Colombian public, in particular, provided a remarkable display of solidarity. More than 100,000 of them flocked to the Atanasio Girardot Stadium for what was supposed to be the first leg of the Copa Sul-Americana final, the majority flooding the streets of Medellin.
Together they cried. They cried for Brazil. They cried for Chape, the opposition. And they sang: 'Vamos Chape'. Over and again they sang.
And the singing hasn't stopped. Instead, it was the game that stopped last week when Chapecoense returned to the pitch for the first time since the crash. The 71st minute of a friendly versus Palmeiras saw a break in play for the now world-renowned chorus of 'Vamos Chape'.
"It's very emotional to be here, this is where we used to play and train, and now there's a beautiful tribute like this," said survivor Jackson Follmann, who tearfully accepted the Sul-Americana trophy on the pitch, from his wheelchair.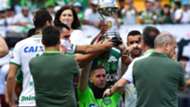 Tribalism, cynicism, ignorance, yes, they all reign in football. But in its most desperate times, football becomes a sport that unites. It offers us a commonality, a bond with the 'other'.
Wednesday will be a celebration of that unity. It will offer those selected with a chance to put in a performance worthy of the example set by Chape.
It also offers the rest of us another chance to prove that the 71 who lost their lives on LaMia Flight 2933 did not do so in vain, to remind us that we are all one.
We are all football. Wherever we're from, whatever language we speak, we are all people. We are all Chape.