Brazil
Captain Fantastic - Neymar back to lead resurgent Brazil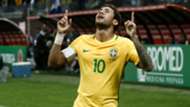 He said he didn't want to do it anymore. He'd had enough of leading. The expectations of 200 million was burden enough.
But on Tuesday Neymar did it again, captaining Brazil for the first time in over a year, proudly donning an armband he'd elected to give up in August 2016.
And it was, eventually, a heroic return. Neymar starred throughout in Brazil's 3-0 victory over Paraguay, despite much of his early running seeing him fall slightly short.
He set off on a number of winding runs in the first half, bamboozling the Paraguay defence and repeatedly drawing fouls in dangerous areas.
The Barcelona forward had his penalty saved by Anthony Silva on 53 minutes, but made up for it 10 minutes later with a fine solo run that deserved the fortune of his deflected finish.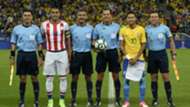 The issue of the captaincy had set two very different tones for two very different Brazil coaches, and has played a major role in Neymar's form for his country. 
Previous boss Dunga's first real act as after his inexplicable 2014 appointment was to strip Thiago Silva of the role without even talking to the PSG defender.
Upon his appointment in June last year, new coach Tite took the heat out of the debate by insisting he would rotate the roll among a "group of leaders." On Tuesday Neymar became the sixth different captain in eight qualifiers.
And the overwhelming weight of burden appears to have been lifted. In a coherent, cohesive and functional collective, no longer is it simply a case of "Neymar or bust." 
"There was never a dependency on me," Neymar rebutted this week, gregariously conducting a Brazil press conference for the first time in over six months.
But that said more of Neymar's humility than it did about Brazil's recent past. The previous two years had brought little but frustration for the Barcelona man who on form may well be the best player on the planet right now.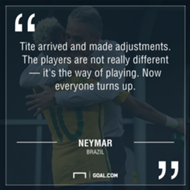 Adding to his sumptuous chip in the 4-1 demolition of Uruguay, on Tuesday Neymar became the top goalscorer under Tite with six goals.
It's now eight wins in a row for Tite and Brazil, with 23 goals scored and two conceded. A place at the World Cup is all but confirmed.
It's been a remarkable turnaround.
When Tite rook the reigns in June 2016 following a second Copa America humiliation in two years, Brazil were languishing in sixth place in World Cup qualifying.
The five-time world champions were at their all-time lowest ebb. They'd made no progress in the two years since the unprecedented embarrassment of "The 7-1."
The Selecao were disjointed, dissatisfying, disgruntled and just downright disappointing. In just nine months under new coach Tite they have been disinterred.
He kicked off his reign with a 3-0 victory over Ecuador – Brazil's first win in Quito for 33 years. And he's been breaking records ever since.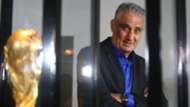 Last week he inflicted Uruguay's first home defeat since 2009, extending his winning run to seven consecutive World Cup qualifiers to eclipse Joao Saldanha's record of six in a row. Thursday night's win over Paraguay made it a perfect eight.
What reflects most impressively on Tite is that this is largely the same group of players who fell so desperately short under the previous management.
"Tite arrived and made adjustments," said Neymar. "The players are not really different - it's the way of playing."
Those adjustments have been manifold. Tite has pushed the team 20 yards upfield, bringing the lines closer together, which has allowed for added defensive solidity and, most significantly, provided greater options in attack.
Central midfield, meanwhile, had long been the root of Brazil's issues, having turned their back on passing midfielders many moons ago. 
Tite has turned back the clock. Casemiro has provided a volante stable enough to operate without a partner in crime, which has created space for the cerebral, creative Renato Augusto, and a shuttling midfielder in Paulinho.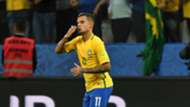 Tite has also got the best out of Philippe Coutinho, something Dunga had never come close to doing. He opened the scoring with a fine goal of slick interplay as he exchanged passes with a resurgent Paulinho before firing home.
The Liverpool man's fine form is best illustrated by the fact that the man he replaced, Willian, is the only player under Tite to lose his place in the team due to anything other than injury or suspension.
Tite has the Midas touch, but just as important has been his personal touch. A belligerent Dunga had fallen out with anyone and everyone, frequently banishing first-team regulars in an increasingly confusing series of unnecessary conflicts.
Tite has wiped the slate clean. Thiago Silva and Marcelo instantly returned after being cast aside for more than a year.
Neymar has flourished. Brazil's leading man now has a supporting cast. He is electing to take a leading role, actively seeking out responsibility rather than having it dumped on his shoulders as those around him fluff their lines.
And there are few leading roles more desirable in world football right now than that of the new Brazil story.