PSL
Cape Town City boss John Comitis issues Ayanda Patosi with stern public rebuking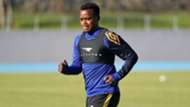 Cape Town City boss John Comitis, has issued a stern warning to star player Ayanda Patosi after the 25-year-old missed training ahead of their clash against Maritzburg United last weekend.
City have drawn their last two games in the Premier Soccer League (PSL), most recently playing out to a goalless draw against SuperSport United, but what has been a common occurance on both occasions has been the absence of Patosi.
Patosi joined the Citizens at the beginning of the season, but has battled to adjust to the rigours of the South African game since returning from Belgium, although he has showed glimpses of brilliance.
However, in what can only be described as a public rebuking by Comitis, the skilful winger has been told to man-up and start taking responsibility for his actions or run the risk of being shipped out.
"He missed a day's training before the last game and it was critical for us to have everybody focused. We can't allow one player to mess it up for everyone else'" Comitis told TimesLIVE.
"His statistics on the pitch are great' you can see the return we have when he plays. There is no question about his ability' but it is more than ability that will get a player to be in a starting line-up and help us to win things," he added.
"We have to be able to rely on players and be honest to everybody else who have put in a full shift,"  he said.
Furthermore, Comitis revealed that McCarthy will only consider Patosi for selection once he gets his act in order, both physically and mentally.
"He had a few issues relating to his condition and he needs to man-up now and take responsibility' failing which we cannot have a player that keeps letting us down'" Comitis explained.
"He needs to understand we are here to support him but he needs to support himself as well. Coach [Benni McCarthy] will only consider him if he's in the mental state to be considered," he continued.
"You have to understand that we have a coach that it is his first outing [season] and he puts a lot of emphasise on having respect from everyone," he revealed.
"You can only gain respect when you are operating in a way that doesn't favour anyone and always keeps consistency in terms of certain principles," Comitis said.
"It is not up to us teach someone like Patosi' he knows exactly what is expected of him and he is a talent that should be playing for South Africa [regularly]," he expressed.
"He could make an absolute difference' but he needs to give his commitment first. We are here for him' but he needs to step up," he concluded.