Premier League
Can you name all the Premier League Golden Boot winners?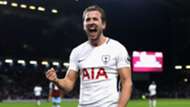 With Harry Kane once again lighting up the Premier League, it made us think about the players of the past who have gone on scoring sprees to win the Golden Boot.
The Tottenham star set a new record for Premier League goals in a calendar year with a hat-trick against Southampton on Tuesday.
Kane's first Boxing Day goal was his 37th in the English top flight in 2017, breaking the record set by Alan Shearer in 1995, the year he won the title with Blackburn Rovers.
The race for the 2017-18 Premier League Golden Boot is now truly on, with Kane overtaking Mohamed Salah as we move towards the New Year.
Kane was the clear winner of last season's crown, bagging 29 goals in 30 appearances for Tottenham, and he's on his way to winning his third straight award.
There have been 20 Golden Boot winners since the Premier League was founded in 1992, with three players sharing the honors in both the 1997-98 and 1998-99 seasons and two in 2010-11. 
Can you name the winners who came before Kane burst onto the scoring scene during the 2015-16 season?