Junior Lokosa: What's the secret behind the NPFL hitman's scoring streak?
---
COMMENT
---
The 2018 Nigeria Professional Football League is about to reach the midway point, and while Lobi Stars are leading the standings, Kano Pillars have made their own headlines this term, largely because of the irrepressible form of Junior Lokosa.
The forward – who moved to the groundnut pyramid city from Lagos in the midst of least season – has set the Nigerian top flight ablaze this term, scoring a staggering 14 goals. It's a remarkable feat when one considers that he was relatively unknown when he joined from third-tier side First Bank FC.
Although he scored five goals when he came on board till the end of the season, the likes of Gambo Mohammed, Rabiu Ali and Nwagua Nyima were in the spotlight last term, with Lokosa's contribution going somewhat unnoticed.
However, this term, the Badagry-born forward has overtaken those established names to become the real deal at the Sani Abacha Stadium.
Did you know @pillarsfc forward, Junior Lokosa, is the first player to score 14 goals in just the first round of the Season? pic.twitter.com/PQMzeFuDi3 — LeagueBloggersAwards (@theOfficialLBA) April 4, 2018
Beyond being a lethal finisher, Lokosa has a good eye for goal, and boasts a brilliant technique, but what makes him be a class apart from every other forward in the NPFL?
In a conversation with Goal, Pillars coach Ibrahim Musa stressed that the secret to Lokosa's form is the collective effort which he has instilled in the team since he replaced veteran Kadiri Ikhana last term.
"It is about collective responsibility and not something that is a one-man show," he said. "The team is doing well as a result of my programme."
Kano Pillars Junior Lokosa has scored 14 goals this season. He is the highest scoring Nigerian player anywhere in the World.. — Iweamamaryrose (@FlashChigozie) April 11, 2018
"I have emphasised on ball work more than any other thing," Musa continued. "It is the secret of protecting and pressing. When we have the ball we possess and I use more midfielders than attackers.
"During Kadiri Ikhana's time, the team used more attackers than midfielders," he continued. "They would run but without the ball.
"Now everywhere runs, we have the ball. If we lose the ball, everybody must be behind to get it back. This system is what is making Lokosa do well and score goals."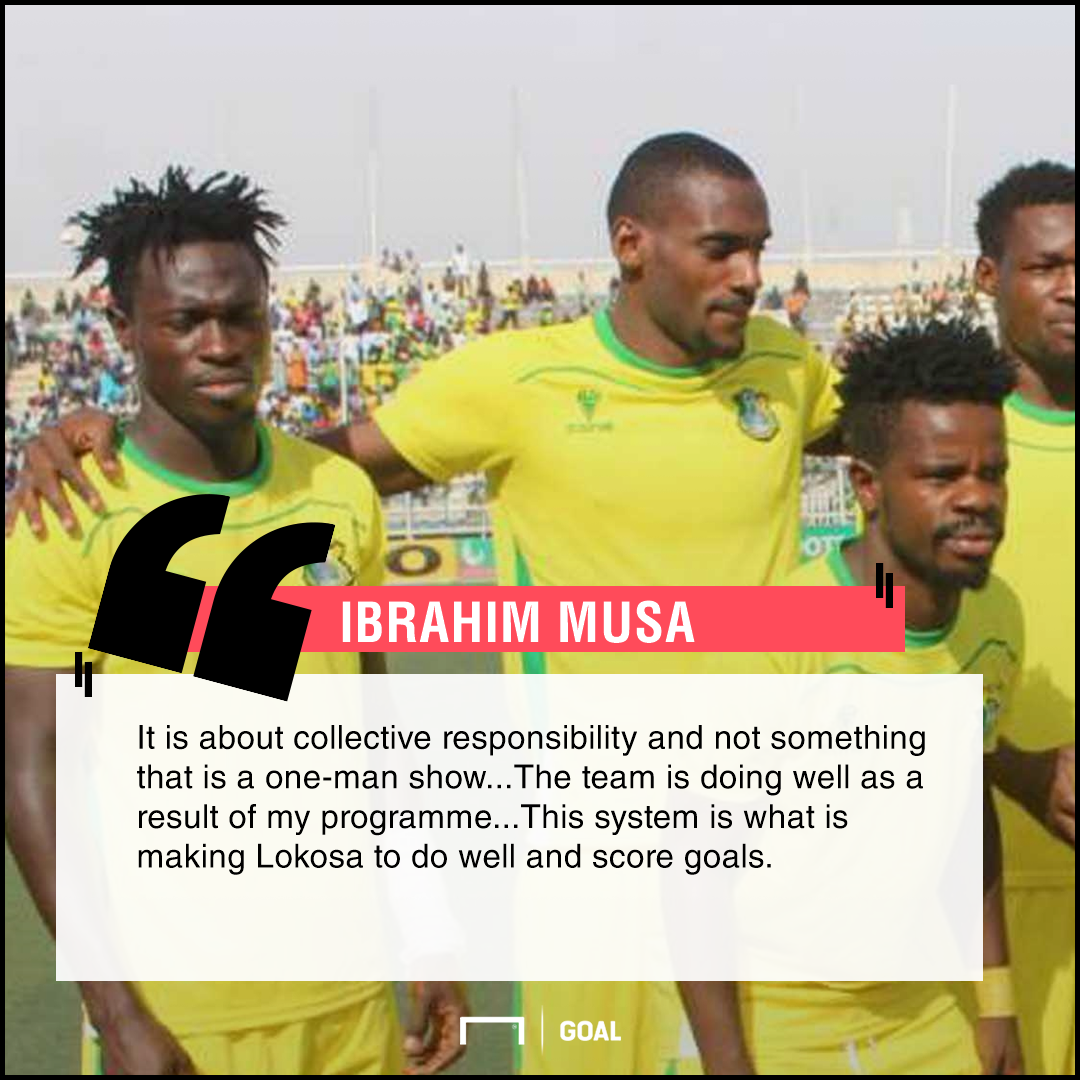 Lokosa is just nine strikes away from breaking all-time NPFL top scorer Mfon Udoh's record of 23 goals in a single campaign, and Goal spoke with the Enyimba forward about the prospect of this year's breakout star beating his record.
"Of course he can do it, in fact it is something I expect him to do." Udoh said. "He has scored 14 goals and the first half of the season is yet to end.
"There are still more than 19 matches to go, so for me he has done it and I'm already congratulating him."
At this rate, Mfon Udoh's 23 goal record is well within reach of Junior Lokosa.

He has scored 14 goals in 15 games so far#NPFL18 — Areo Samueli O. (@Undisputed_Jsam) April 4, 2018
"The record has lasted for four years, so it's high time someone else broke it," he added. "It will be a challenge to upcoming players.
"I won't feel bad when he breaks it because I too broke somebody's record," he concluded. "It's a journey and somebody has to take over just like government where one comes, goes and another takes over."
The 2018 World Cup is less than two months away, and one of the persistant headaches of coach Gernot Rohr is not having a forward who can consistently deliver.
It was one of the undoings of the squad in the recent friendlies against Poland and Serbia, and as the German tactician tries to find a solution before the country's first game against Croatia in Kaliningrad on June 16, 2018, could Lokosa emerge as a contender?
Pillars coach Musa believes the forward should have gone through Nigeria's age-grade squads before making the step up to the seniors.
"I can't say much on that because I'm not the Super Eagles coach," he added. "If they take Lokosa, that's fine, but the Super Eagles is serious business, and they need experience.
"It [would have been] better for him to [have played] in the U-23s or U-20s where he [could have developed] properly."
After a few years of underachievement, Kano Pillars may yet be genuine title contenders once again.
GAL OF THE DAY:

Junior Lokosa@pillarsfc 4-0 @FCIfeanyiUbah #NPFL18 pic.twitter.com/4R4GbLXWs6

— NPFL News 🇳🇬 (@NPFL_News) April 16, 2018
The next few months should be fascinating as far as the forward is concerned. If he can maintain his form and avoid misfortune, Udoh's record could be broken well before the season's end.
If his goalscoring continues, then could Rohr afford to overlook the local hotshot, particularly after having already considered Gabriel Okechukwu?
Should Lokosa continue with his current goalscoring form, then expect history to be written in the months to come.