Africa Cup of Nations Qualification
Caf set to announce 2019 Afcon hosts as bidding closes soon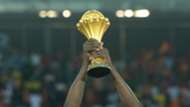 The Confederation of African Football (Caf) has set December 14 as the deadline for prospective 2019 Afcon hosts to file official bids to organise the tournament.
After submitting their bids, the successful candidate will be announced on January 9 at an extraordinary meeting. This comes after Cameroon were last week stripped of the right to host the 2019 Afcon finals due to ill-preparedness.
Caf had initially announced that the new hosts would be known before the end of this year. But according to BBC Sport, the Afcon hosts would be chosen at the January 9 extraordinary meeting.
The country that will stage the 2019 Afcon will only have five months to prepare after the confirmation of their hosting mandate. South Africa and Morocco are heavily touted as the leading candidates where between them the winner of the hosting rights would emerge.
South African Sports Minister Tokozile Xasa was due to meet the South Africa Football Association on Tuesday to discuss the bidding for the tournament.
Congo Brazzaville whose name had been surprisingly thrown into the hat have stated that they have no capacity to organise the expanded 24-team Afcon and will not bid.