Manchester United
Bye bye record-breaker - Rooney needs to justify Mourinho faith to save his Man Utd career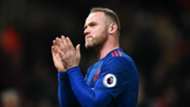 ---
COMMENT
---
It has been a week filled with well-earned plaudits for Wayne Rooney. Now out on his own as Manchester United's greatest-ever goal scorer, the club captain's record-breaking late equaliser at Stoke on Saturday has given everybody the opportunity to take a step back and appreciate the phenomenal feats he has achieved in his career so far.
Mourinho: Martial hasn't taken his chances
But the time for reflection and reminiscing must now be shelved until the end of Rooney's career. The man himself has said so: "It's a great honour. It's something I never expected when I joined the club put I'm really proud. There's a lot more to come. When you finish playing it's something to look back at, something for when your kids grow old and you can look back at."
And perhaps more pertinently, his manager Jose Mourinho has claimed that it will do his number 10 some good in the future to have finally broken through the 250-goal barrier. "I think you should speak about Wayne's record today and tomorrow 24 hours per day and then finish, and then let him be again a normal guy… Since the beginning of the season [he has felt the pressure from it]. It's an amazing achievement, it's great because now life goes on."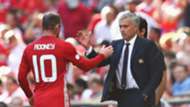 There can be no escaping the fact that this has been Rooney's poorest season at Manchester United to date. In the various lists detailing his goal-scoring exploits in a red shirt, the 2016-17 total of just five stands out like a sore thumb. And what's more, it is a fair reflection of the performances he has been putting in. Even Mourinho says he has not been right since the start of the campaign and now the pressure is on the skipper to prove that the weight of expectation relating to the record was the full extent of his issues.
The stars returning early from AFCON
Because if his form doesn't show a sudden upturn now the shackles of the footballing archives have been thrown off, Rooney's Old Trafford goose is well and truly cooked. He may well have a lucrative contract which ties him to the club until the summer of 2019, but at 31 years old he is far from ready to sit on the sidelines more often than he starts.
Only once in his United career has he come off the bench more than the nine times he has been a playing substitute this term, and those 10 appearances as a sub in 2008-09 came in a season jam-packed with games thanks to the addition of the Uefa Super Cup and Fifa Club World Cup and their feat of reaching a second successive Champions League final. That term, he was largely rested. This year it is because he has been second choice at best.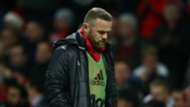 His touch has been woefully short of where United need it to be and, while Mourinho has optimistically suggested he can return to top form in the weeks to come, it is far more likely that his form of the last couple of seasons will continue. And if that happens, then a number of Chinese clubs are very likely to take a very close look at one of the biggest names in world football while major MLS outfits will also be put on alert.
Over the years, Rooney has earned every single bit of his reputation as one of the greats of 21st century football, but now that his career has turned a corner he is no longer meeting the needs of Manchester United.
Mourinho has the luxury of having Zlatan Ibrahimovic, Paul Pogba, Anthony Martial, Marcus Rashford, Henrikh Mkhitaryan, Juan Mata and Jesse Lingard to choose from in his captain's stead, with Antoine Griezmann a potential arrival in the summer. There is simply no need for Rooney on present form. He needs to demonstrate the new lease of life his manager is waiting for, or his record-breaking United career could well be entering its final few months.