Johan Cruijff
Book Review: Johan Cruyff's MY TURN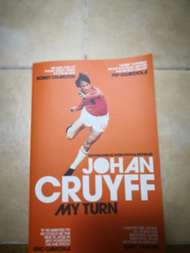 He was known throughout the footballing world as a genius, someone who revolutionised the game on and off the field. And when he passed away in 2016, Johan Cruyff left behind him a legacy that at times seems to overshadow the man himself.
But who was Cruyff actually; the man who was dubbed the European Pele was aptly described as a great thinker of the beautiful game. In fact it was due to that ability to think further than most that would allow him to drastically alter the footballing landscape both as a player and later on as a manager.
And this brings us to the next paragraph which is his book. My Turn: The Autobiography was completed shortly before his passing. The book reveals his inner thoughts and how he viewed the game. To make it simpler the book is basically broken down into these three parts:
His life as a Player
It's easy to say that Cruyff was not your average football player. In fact on the pitch he was the leader and to a great extent the manager on the pitch for teams he played for. Whether it was Ajax or Barcelona, it never prevented him from being the embodiment of his coach.
But Ajax would always be his home. It was where he took his first steps as a professional footballer leading him to proclaim his undying love for the Amsterdam based club.
Figures such as Rinus Michels combined with teammates Ruud Krol and Johan Neeskens would all go on to shape how, Cruyff viewed the game.
The entire aforementioned are stated at length in the book but intriguingly when Cruyff moved to America, many would view his time there, as a natural route for a football player past his sell-by date, which was not necessarily the case as it only added to his rich experience.
Conversely that part of him being in America would prove to be one of the best chapters in the book as the man highlighted how the game was being run in a better way as compared to Europe. Indeed his time with the Los Angeles Aztecs and Washington Diplomats would make him believe that American Soccer could one day rival Europe's best leagues.
As a manager
What the book does when discussing about Cruyff as a manager was to give few detailed scenarios of how he thought of the game from the sidelines.
For example, back in those days most coaches viewed a goalkeeper as just a goalkeeper only but Cruyff saw him as a the first attacker of the team, that is crucial in starting out an attack. In modern football this has become prevalent and it just highlights the visionary that he was.
But then again this is a man whom the likes of Pep Guardiola and Frank  Rijkaard pay tribute to in having a huge influence in their careers. Success however is not without failure and Cruyff certainly experienced that coupled with betrayals that would all but sum up a managerial career that makes for an interesting read. The only downside was more could be added to let readers be aware the full scope of his thought as a manager.
Moreover, this part would also include his battles with kicking his extremely unhealthy habit of chain smoking.  A habit which would eventually rob him of his life.
Ajax and the Netherlands
Ajax and the Dutch national team were the two teams who were closest to Cruyff's heart and what the book does is explain fully the relationship he had with, the two footballing entities.
Playing for the national team was something that was extremely important for him and it absolutely gutted him when they lost the final of World Cup 74, to what was then West Germany.
But the worst was yet to come for Cruyff as he was made to miss out altogether on World Cup 78 due to a harrowing incident that happened to him and his family. Indeed this awful incident had a grave impact on the Dutchman which leads readers once again into his deep most inner thoughts.
Meanwhile Ajax' decline in the modern world of football troubled Cruyff greatly and as someone who cared deeply about the club, he sprang to life to try and save it. But he would be hindered on so many different levels. His attempt in trying to chart the right path for Ajax is filled with colourful moments which highlights his true character and in the process compels the reader to keep flipping the pages.
Verdict
3.5/5