A-League
Sydney FC striker Bobô reveals brief foray as a goalkeeper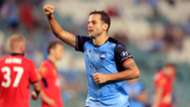 He may hold the record for most goals scored by a player in an A-League season, but Sydney FC striker Bobô once braved the goalkeeping gloves in a professional match in Turkey.
The Brazilian, whose real name is Deyvison Rogério da Silva but goes by his nickname Bobô, spent most of his career in Turkey playing for Besiktas prior to his move to Australia.
Though he won a number of trophies with the club during his five-and-a-half-year stint, there's one game in particular that stands out.
The match was against Trabzonspor and it saw Bobo put his team ahead after being 2-0 down before he made one of the rarer positional changes in football.
"Our goalkeeper was sent off for a handball outside the box," Bobô wrote in an article for Players' Voice.
"We'd used up all our substitutes and needed someone to finish the game in goal. I didn't think twice. I put the gloves on.
"I played more than 10 minutes in goal and made three important saves for the team.
"We beat them 3-2 and my goal was the winner. It was unbelievable."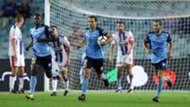 Bobô notched his 27th A-League goal of the season against Melbourne Victory on Friday night to secure a 1-0 win.
While he's making scoring look effortless this season and admits keeping isn't easy, Bobô believes being a striker is harder.
"Being a goalkeeper is very hard," he wrote.
"But still, I think it's more difficult to be a striker.
"There is a pressure to score in every game.
"For a goalkeeper, you cannot make every save in every game. It's impossible."
Particularly impossible when Bobô happens to playing against you this A-League season.