NXGN
Black boots, a cool head and a football father: the story of Ethan Ampadu's rise to stardom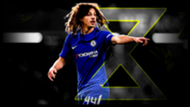 From the fourth tier of English football to a debut with the Premier League champions, Ethan Ampadu has excelled at every level thanks to the perfect footballing education. 
Having moved to Chelsea over the summer, the Blues are yet to agree a fee for the player they signed at 16 years old, as they await a summer tribunal with Exeter City.  
The Grecians' youngest ever player, at just 15 years, 10 months and 26 days, can credit three men in particular for his development. 
He played all of his 13 games under manager Paul Tisdale, while Steve Perryman, the club's Director of Football, provided additional support. 
His father Kwame was his youth team coach (before being hired by Arsenal's academy) and aided his development at home and on the training pitch before last summer's Stamford Bridge switch. 
Ampadu immediately stood out within his age group at Chelsea, leapfrogging a host of the players from the quadruple-winning academy side to force his way into the first team. 
He's both come off the bench and started for Antonio Conte's side and he is now a full international, with Wales calling him up at 16 before giving him his debut at 17.
Conte sees a little bit of himself in Ampadu, having made his professional bow for Lecce at 16, and that bond perhaps explains why the versatile defender is the youngest player to play under the Italian in his last seven seasons as a coach.
However, while Ampadu's rapid rise to stardom at Chelsea has seen him make Goal's NxGN list of the top 50 teenagers in world football, it was Exeter's comparatively modest academy that made him the player and person he is today. 
Director of Football Steve Perryman says that both the club and his father worked to instill in Ampadu a unique mentality that ensured he would never be phased by a step-up in quality. 
"Ethan has had everything, the right environment from a very young age up until the time he decided to leave," Perryman told Goal. "It is about the environment that you are in. So, why has he chosen Wales over England? I think that's come down to the environment that they offered him.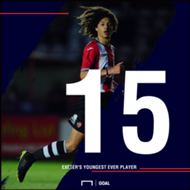 "It is about getting the environment right, balancing your school work with training. We couldn't treat Ethan like a normal footballer in his mid-20s. It was about treating him in the right manner and picking and choosing when it was right for him to be involved with the first team and when it was correct for him to be concentrating on his studies at school.
"His father, for instance, when he came in for his football reviews – we did two or three a year over the course of the season – was interested in just two things. He wanted to ask the boy, 'Are you enjoying your football?' He would say, 'Yes, dad.'
"Then, he would ask the coach for Ethan's age group, 'Does he work the hardest in the group?' If the answer to both of those questions was yes, then the father was happy. This is an ex-pro and someone in the coaching world we are talking about.
"He's a good coach, you don't get Arsenal's under-18s job by being a poor coach. I suggest other fathers follow that advice. Exeter City Academy has a very good record of producing quality footballers and well-rounded young men.
"The likes of Dean Moxey, George Friend, Liam Sercombe, Matt Grimes, Ollie Watkins and many others have all come through the academy system here at Exeter and gone onto play at a higher level but everyone comes out of the system as a well-rounded individual.
"Therefore, everyone could see that the environment was right here for Ethan and he would see the benefit of good coaching and discipline here. For example, we have a rule here at the academy that players can only wear black boots, not all black but mostly black, up to a certain age.
"You don't want oranges, pinks and greens, that you get away with as an older pro, because they are not old pros and we want the young players to have that discipline and grounding.
"The young players, not just Ethan but all of them, if they walk past me or anyone senior they also have to say hello and look you in the eye. It is important they learn these values.
"As for Ethan, He has an inner confidence without being brash or flash and he has learnt that at Exeter and from his father. He is also very hard-working. He managed to fit in his school work, and revising for his GCSEs, while training and playing in our first team.
"That takes some doing and is a sign of an excellent ability to cope with a lot of pressure. No match fazes him, I tell you. I have seen him in tricky situations in games. In bad weather, on bad pitches, against tricky opponents.
"He played in derby games against Plymouth Argyle and League Cup matches against Championship and Premier League opponents when he was only 15. Our opponents earmarked him as a player to stop and that takes coping with, but I have never seen him flustered.
"That is either on the ball or off the ball. On the pitch or off the pitch. He is not flustered. This kid is a class act without being a show off."
Perryman has instilled his values into Exeter, some of which have been influenced by his status as a Tottenham legend, while the rest he learned as a manager in England, Japan and Norway.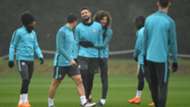 Ampadu continues to embrace the values he was taught in Exeter's academy. Indeed, he avoids wearing any brightly coloured boots to this day, despite his new-found fame. 
The dreadlocked starlet has a humble and quiet demeanour, but that changes as he enters the pitch. He becomes vocal and physical, impressive leadership qualities that convinced Conte to integrate him into his squad. 
Ampadu has played in all three centre-back roles of Chelsea's 3-4-3 formation. He has also played in central midfield, in a two-man partnership, but Perryman believes he will turn into a box-to-box midfielder. 
"I think, at his own age group, he would be a high-quality midfield player," Perryman added. "In a midfield three, sometimes you have one who just defends, one who just gets forward and one who does a bit of both. My opinion is that Ethan would be one who does a bit of both.
"When he is playing against a lot older players, like he has always done so far, I think he is better coming onto the ball and playing in defence. He can play in a three or a two and he will be better in that position until he gets older.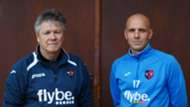 "Ethan, I have the confidence that he can handle it [at Chelsea]. His big advantage is that he makes good decisions. Pass it left or right, dribble? He will always make the best call. He can carry the ball and he has an ability to do these things, whether at Exeter or Chelsea.
"When it needs to be played one touch to someone, he can play it and he can recognize when he needs to put it in row Z. He makes the right decisions. I am confident that he will cope but he will play better in some games than others.
"Put him up against Lionel Messi tomorrow and you'd think good luck, but he can cope and he will have a long career. He won't get flash with his money, waste his talent like some can, because he has learnt good values at Exeter City.
"He is surrounded by a top class family and a professional football driven family. He has all the support he needs around him. He plays for a top, top club and that will push him to the next level. 
"I have no hesitation in predicting that this young player will become a top, top player because he has the right character, he is humble and he has the attitude and desire to learn to match his undoubted ability."
Sadly, Ampadu's fractured ankle will mean that he won't add to his nine senior football appearances this season, but we will be hearing more about the grounded, unassuming wonderkid next season.