Goal United
Better than Ronaldo? Young Bafana's Prof masters the Juve star's technique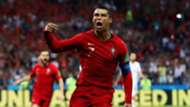 In 2018 Prof had the wonderful opportunity of representing both South Africa and Young Bafana Soccer Academy when he went to Gazprom's Football for Friendship Convention in Russia. He and Razor were privileged to attend the FIFA World Cup opening match and experienced first hand the joy of professional football.
Moreover, they were involved in the Football For Friendship Children's Forum, where children from over 290 countries and regions of the world came together. They were taught nine values, namely, friendship, equality, fairness, health, peace, devotion, victory, traditions and honour.
All the activities of the Football for Friendship Programme began with the exchange of Friendship Bracelets. The bracelet consists of two threads, one blue and one green, and it can be worn by anyone who shares the program's values and is a symbol of equality and a healthy lifestyle.
According to Franz Beckenbauer, "The symbol of the movement is a two-colour bracelet, it is as simple and understandable as the inherent values of the Football for Friendship program".
On the way home, the boys watched the Portugal/Spain match at Istanbul Ataturk Airport during their layover in Istanbul. One of the moments which stuck with Prof was the free kick which Ronaldo took and used to put his team, Portugal, in the lead. Prof was so impressed at how Ronaldo used the moment to lift the spirits of the team. The two teams ultimately drew however Prof took away the importance of free kicks from the match.
Arriving back home Prof spent some time researching Ronaldo and his training style. The fact that Ronaldo spends so much time practising shooting and his free kicks inspired Prof to do the same. Hours were spent at school, during training, and in his games in the township, practising and developing his shooting skills.
Recently Young Bafana played some pre-season friendlies against Ubuntu Football Academy.  The boys played their hearts out however they, unfortunately, found themselves in the position of being two nil down. The opportunity for a free kick was awarded to YoungBafana. As Prof stepped up to the ball, he remembered watching Ronaldo's free-kick all those months ago in Istanbul. Would this be the moment where he too could inspire his own team just as Ronaldo had?
Prof was successful and Young Bafana was awarded the goal. Unfortunately, the team still lost to Ubuntu 4:1. The goal which Prof scored definitely lifted the spirits of his teammates and the boys left the match feeling motivated to do better next time.