Newcastle United
Benitez believes run-up to Christmas will be key to Newcastle's season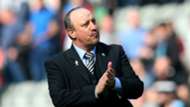 Newcastle United manager Rafa Benitez believes that a successful festive period will be key to helping his side avoid relegation.
The Magpies look set to be in a battle for Premier League survival this season as they sit 14th in the table, but only one point clear of the bottom three.
Benitez's side face a spell of winnable games before Christmas starting with a trip to Burnley on Monday. Matches against bottom-three sides Huddersfield and Fulham closer to Christmas follow as opportunities to pick up points.
Newcastle have been buoyed by wins against Bournemouth and Watford in their last two games and Benitez is hoping that the international break has not derailed their momentum.
"When you are so close to the other teams, any win is massive - and two wins is even more important." Benitez told the Chronicle
"I think the international break is bad for us, but at the same time it gives us time to recover and spend time with our families.
"We can come back with more energy and, if we can get another couple of good results, I've always said November and December will be so important for us."
On Boxing Day, the fixtures get tougher with a trip to Liverpool and five of their seven games after Christmas come against 'Big-Six' sides so Benitez has placed increased importance on picking up points before their tough run begins.
"We have a run of games up to Christmas which will be difficult, but we have a chance in all of them," he said. "I always said this would be an important period for us."
Despite the poor start to the season, which saw Newcastle fail to win in their opening 10 league games, Benitez was impressed by his team's performances, such as in the dramatic 3-2 defeat at Manchester United when his side held a 2-0 lead.
He continued: "I was saying throughout the first part of the season that we were doing well in games, we were solid.
"When I was talking earlier this month about looking back at my notes, staying calm was one of the main things.
"We got through that period, we have won back-to-back games, and now we need to go to Burnley and try to follow that up."