Udanta Singh
Bengaluru FC's Udanta Singh - 'Right wing is my right position'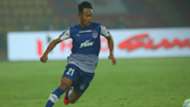 Bengaluru FC's Udanta Singh is one of the brightest talents in Indian football at the moment. Hailing from Moirang, a small village in Manipur, the 21-year-old winger has already made a name for himself in the Indian football canvas.
The two times I-League champions had signed Udanta from Tata Football Academy (TFA) in 2014. At the age raw of 17, Udanta found it hard to get regular starts under then coach Ashley Westwood.
Since Albert Roca took charge of Bengaluru FC in 2016, Udanta slowly became a regular starter. This season, Udanta became one of the most important members of the Bengaluru side and has played in 19 matches in the Indian Super League (ISL) in which he provided 7 assists in total and scored a goal. 
Last summer, he signed a three-year contract extension with the club. The right winger spoke about the progress he made in his career since joining the Southern Eagles. He said, "I have improved a lot after joining Bengaluru FC. I started my career here. In the first one or two seasons, I did not get too many chances. I practised with my teammates, learnt a lot. Coming from bench to slowly making it to the starting lineup, I think it is a big improvement for me personally."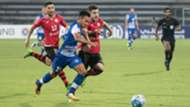 At TFA, Udanta started his career as a striker but since joining Bengaluru FC, both Westwood and Roca used him as a winger. When asked about his preferred position, he said, "Yes initially I started as a striker in TFA but now I am in the right position as I am comfortable on the right wing. Bengaluru FC was my first professional club. At the time of joining I was a bit nervous initially. I gave my best and slowly adapted to the winger's role."
While there is a marked difference in Bengaluru's style of play since Roca took over from Westwood, Udanta feels his role has remained the same. "From my point of view, there isn't much difference between Ashley Westwood and Albert Roca. My playing style remained same under both the coaches. Under Albert Roca, the team's movements start right from the backline. It's a much more balanced style. He stresses on passing football."
Udanta will be a key man in Stephen Constantine's Indian team which travels to Doha next January to take part in the Asian Cup. On his personal goals for the Asian Cup, he said, "Asian Cup is a big opportunity for India as well as me. We are aiming high. I will give my best for the country."
Bengaluru FC take on East Bengal in the final of the ongoing Super Cup 2018 in Bhubaneswar on Friday. Udanta seemed confident ahead of the big match against the Red and Gold brigade. "Everyone knows that East Bengal are a big team. They are a very strong opponent. We will give our best and I think it is going to be a good game," said Udanta