Primera División
'Barcelona's comeback was historic in every way' - Ramos praises Real Madrid's rival club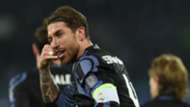 Real Madrid defender Sergio Ramos has praised rival club Barcelona for their amazing Champions League comeback against PSG.
Trailing 4-0 from the first leg in Paris, Luis Enrique's side recorded the biggest ever Champions League comeback, winning 6-1 at Camp Nou to record a 6-5 aggregate victory.
Over 100k want Barca vs PSG replayed
Players and pundits from all over the globe have praised Barcelona's epic comeback, and now Madrid's Ramos has chimed in with his praise, which may cause ire among fans as the two are bitter rivals in La Liga.
"Barcelona played very well to come back. The truth is that it was historic in every way," Ramos told reporters in the mixed zone after his side's 2-1 win over Real Betis.
Ramos scored the winner late in the game to give Real Madrid three points and keep them ahead of Barcelona in the table.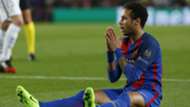 The Madrid captain was also asked his opinion on the decisions made by German referee Deniz Aytekin during Barca's win over PSG, which caused controversy as many seemed to think that the 38-year-old favoured the hosts in the second leg.
However, Ramos refused to criticise Aytekin, saying that sometimes things like that happen in football.
"The referee? Sometimes they give you decisions and sometimes they take away," Ramos concluded.
Luis Enrique: We've won nothing yet
Both Barcelona and Real Madrid progressed to the quarter-finals of the Champions League after overcoming their last 16 opponents.
While Barca defeated PSG, Ramos had a hand in defeating Napoli, scoring in the second leg as Zinedine Zidane's side won 6-2 on aggregate.
Real are looking to defend their title, having beaten Atletico Madrid in the final last year, while Barcelona's Lionel Messi ended the competition as top scorer.