Transfers
'Bale loves Real Madrid and they love him' - Man Utd transfer talk rubbished by agent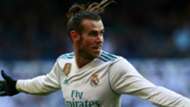 Gareth Bale has been distanced from links to Manchester United, with his agent saying "Gareth loves Real Madrid and Real Madrid love Gareth".
Amid another injury-hit season at Santiago Bernabeu, the 28-year-old has once again seen his future called into question.
United are long-standing admirers of the Wales international and are reported to be considering a big-money approach for a man who has previously sparkled in the Premier League at Tottenham.
Bale has, however, received support from Blancos boss Zinedine Zidane of late and his representative, Jonathan Barnett, has now sought to bring an end to the ongoing exit rumours.
He told ESPN FC: "Gareth is a Real Madrid player and loves Real Madrid, and Real Madrid love Gareth.
"All this talk about leaving is written by reporters who have no idea what is going on and who need to write something and don't care if it is true or not."
Bale remains under contract in the Spanish capital until 2022.
Real have him tied to a long-term deal after investing €100 million in his talent back in 2013, with Zidane having recently moved to quash any talk of a summer sale.
He said: "My feeling is that Bale is going to stay at Real Madrid next season.
"He is not going to lose his motivation. He is an important player."
Bale has, however, seen plaudits countered by criticism throughout his time in Madrid, with former Blancos striker and director Jorge Valdano saying of him after a 1-1 derby draw with Atletico.
"[Bale's] movement was good, he gave the assist to Cristiano [Ronaldo].
"He gave me the feeling he wanted to take part in the play, show what he could do, for the entire 90 minutes. The problem is that nothing that Bale does is worth €100 million, and that is the figure he carries around with him."