UEFA Champions League
Ramos, Gerrard, Neymar and the great heart-stopping moments of the UEFA Champions League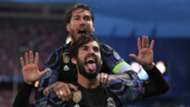 The UEFA Champions League is the stuff of dreams.
Club football's most prestigious club competition continues to provide some of the most heart-stopping moments in European club football's glittering history.
Earlier this month, Real Madrid saw off Atletico 3-0 in the first leg of this year's semi-finals, as Santiago Canizares joined two fans for the Mastercard Heartbeat Challenge, which saw the duo challenged to keep their heart rates under 80bpm during the match.
The two fans struggled, of course, but were rewarded with tickets to the second leg for the passion they displayed.
"I had a really good time with the fans," said Canizares. "It's impossible to live a match like that with a low pulse. I was sure they were going to lose the Mastercard challenge."
With Real fans set to face a nervy night again on Saturday when they meet Juventus in the final in Cardiff, here are five heart-stopping moments from club football's greatest competition.
---
AJAX 95 - DOING IT FOR THE KIDS
---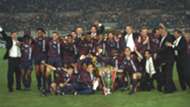 To this day they are remembered as one of the greatest club sides in the game's history, known simply as Ajax '95. With an average age of just 23-years-old, the Dutch giants lived up to the incredible tradition carved out by Johan Cruyff and Rinus Michels on one of the great nights in European football history when they saw off the mighty Juventus in dramatic fashion.
With just five minutes remaining at the Ernst-Happel-Stadion in Vienna, a 17-year-old Patrick Kluivert came off the bench to net one of the most famous goals in UEFA Champions League history, writing Louis van Gaal's kids into footballing folklore.
---
AND SOLSKJAER HAS WON IT - MAN UTD'S LATE, LATE SHOW
---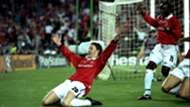 "I can't believe it. I can't believe it. Football. Bloody hell!" sighed an overjoyed Sir Alex Ferguson, exhausted and lost for words after his team sealed the most dramatic UEFA Champions League victory in the tournament's rich history. Nobody could believe what they'd just seen. Manchester United had been pummelled for 89 minutes, outmatched and outplayed at the Camp Nou by a rampant Bayern Munich in the 1999 final.
But somehow, they went into the final minutes just one goal down. When Teddy Sherringham grabbed an unlikely equaliser one minute into stoppage time, late substitute Ole Gunnar Solskjaer's reaction was joy that he got to "play 40 minutes of a Champions League final." He wouldn't: 90 seconds later, Solskjaer won it.
---
YOU BEAUTY - GERRARD SAVES LIVERPOOL FROM GREEK TRAGEDY
---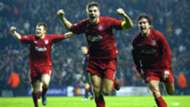 Liverpool were on the brink. With less than five minutes remaining at Anfield on a December evening in 2004, the Reds were 2-1 up but heading out of the UEFA Champions League. They needed a hero more than ever, and up stepped captain fantastic Steven Gerrard for what was one of the most heart-stopping moments in the club's great European history. 
With four minutes remaining, Gerrard hit a spectacular volley to save his boyhood club in remarkable fashion. It would be the defining moment of a run to the final, which culminated in an astonishing comeback from 0-3 down to AC Milan to win the title in Istanbul.
---
RAMOS HEADS ONE FOR THE AGES
---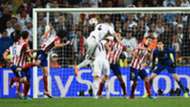 "It was an incredible moment," Real Madrid defender Sergio Ramos told UEFA.com. "I think at the end of the day that will be my lasting memory. I'm going to be able to show this to my son, my grandchildren." It was a header for the ages, one that will never be forgotten – on both sides of Madrid. Atletico weren't supposed to be able to compete.
Dwarfed by their neighbours in the Spanish capital, they'd already done the impossible by beating both Barcelona and Real to the Liga title. And now, three minutes into stoppage time, Real, the most decorated team in UCL history, were about to be outdone by their humble neighbours again. But then came Ramos to deliver the sucker punch. Atleti were done. Real marched to a 4-1 win in extra-time, Ramos' heading in what was essentially the winner.