Tiemoué Bakayoko
Bakayoko: I'll dye my hair blue when I score for Chelsea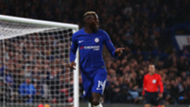 Tiemoue Bakayoko will consider dying his hair blue when he scores his first goal for Chelsea in the Premier League.
The 23-year-old midfielder opened his account for his new side in the Champions League win over Qarabag, but has been unable to find the net in his six league games.
The former Monaco star only recently changed his hair colour, but he is hoping he has to change it again.
Bakayoko 5/1 anytime goalscorer v Palace
"As soon as I score a goal I will change the colour of my hair," he told The Sun. "Possibly to blue. I like changing the colour of my hair from time to time.
"I don't go completely over the top, but sometimes I find it brings me good luck. Since the Man City game I put some white in my hair."
Bakayoko has secured a place in Antonio Conte's starting XI since recovering from a knee injury he had before his arrival.
The France international says the move was a dream come true and is delighted to be working with Conte.
"I've always dreamed about playing for certain clubs. Chelsea is one of those," he added.
"Last season I looked out for them, watching and seeing how best I could play with them.
"I really thought they were the team in which I could express myself.
"The chance to work with Antonio Conte was one of the biggest reasons for coming.
"He's a coach who has always believed in me and followed my progress from his days at Juve. So it's natural that I would get the chance to play under him."