CAF Confederation Cup
Austin Oladapo blames insufficient knowledge for Enyimba ouster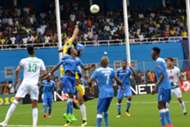 Enyimba's Austin Oladapo has stressed that the People's Elephant crashed out of the Caf Confederation Cup at the semi-final stage because of their insufficient knowledge on Raja Casablanca before the first leg was played.
The People's Elephant were eliminated 3-1 on aggregate but they were first beaten 1-0 at home in Aba and Oladapo noted that their lack of adequate information about the Moroccans played a vital role in their inability to progress to the final.
He said they had an improved game in the second leg because they were able to study the match tapes of the first leg fixture and that they could have eliminated Raja had they converted the chances that came their way in Casablanca.
"We are very proud of ourselves and our performance. The game was a good one and we gave it all what we had," Oladapo told the media.
"Though in the first leg we were not that fantastic due to our lack of knowledge of them but after that first game we saw them better and we were able to work on our weaknesses. If you look at the second leg proper, Raja Casablanca were nothing to write home about. We dominated the game from the beginning to the end.
"The goals they scored were as a result of mistakes and it wasn't as if they worked for it. I am very proud of the game and my fellow teammates for the way they approached the return leg game."
Abdelilah Hafidi had put the Green Eagles ahead in the first leg played at the Enyimba International Stadium, Aba before Zakaria Hadraf made it a more herculean task for the People's Elephant with the opener added on time of the first half in the return leg played at the Complexe Mohamed V in Casablanca to make a 2-0 lead.
Isiaka Oladuntoye whose error led to Raja Casablanca's curtain-raiser in Casablanca made a day to forget in a hurry for him in the 87th minute when he tucked in a goal-bound ball into his own net in an attempt to clear the ball to safety.
Raja Casablanca will slug it out with AS Vita Club in the final to be decided next month and December in a repeat of Group A tango earlier on in the competition.