Mohun Bagan
ATK co-owner Sourav Ganguly lends support to Tutu Bose in Mohun Bagan club elections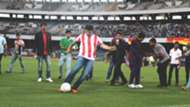 Sourav Ganguly has come out in support of the Swapan Sadhan 'Tutu' Bose camp ahead of the upcoming Mohun Bagan club elections.

Speaking at a local community centre near his residence in Behala on Sunday, the former Indian cricket team skipper said, "I am not much aware of the elections at Mohun Bagan. However, I know Tutu da very well.

"When I played for Mohun Bagan (cricket team), I watched his love and commitment towards the club. To associate with any organization one needs to have love for the organization and I have learnt it with my time at Cricket Association of Bengal (CAB)."

He continued, "Elections are an important part of any club. Sometimes you win, sometimes you lose. The prestige of Mohun Bagan club elections is very high. The whole world knows Mohun Bagan, it is a 129-year-old club. I have heard tales about the famous 1911 IFA Shield victory. It important members elect a person who can take the club forward."

The southpaw, who owns a five per cent stake in Indian Super League (ISL) side ATK heaped further praise on the Bose family. "Srinjoy (Bose, former executive member and Tutu Bose's son) has run the club very well (in the past). Football is not as big as cricket in India but they (Bose family) have managed to run the club from their own pockets. This shows their commitment towards the club and I only hope their love for Mohun Bagan continues forever", he said.

Mohun Bagan recently won the Calcutta Football League Premier Division 'A' and are preparing for the I-League which starts late October. Dates for the club's election have not been finalised but it the process shall be completed next month.