Premier League
Arsenal's shambolic season: Uncertainty, lack of leaders and no Cazorla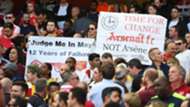 ---
COMMENT
---
"Who are you protecting by not talking today?" asked a journalist as Arsene Wenger's final post-match press conference of the season at Emirates Stadium came to a climatic end following Arsenal's 3-1 victory over Everton. The Frenchman had once again refused to open up on his contract situation but hinted at underlying issues which have contributed to the Gunners inconsistent form and eventual fifth placed finish in the league.
The theme of Arsenal's topsy-turvy season has indeed been contracts. From Alexis Sanchez to Mesut Ozil, Alex Oxlade-Chamberlain to Jack Wilshere and Kieran Gibbs to Wenger himself, the campaign has been clouded by a sense of uncertainty over the future of both players and the manager before eventually transmitting itself on the pitch as results have worsened and confirmation that Europa League football will be played in north London next season - on the red side this time.
Real Madrid are coming for Kane
Arsenal have set a new record high of 75 points for the team finishing fifth in the Premier League era and, while they have always done 'just enough' in previous seasons, failure to win in key games against the top six and bore draws at home to the likes of Middlesbrough have cost Wenger's side their Champions League spot that they became so accustomed to over the past two decades.
What are the main reasons behind Arsenal's fifth-placed finish? Goal has picked our the biggest goings on at Emirates Stadium this season and delved into why they fell short in the title race and subsequently chase for a top four spot.
---
LACK OF LEADERS
---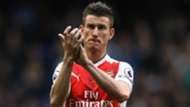 Per Mertesacker made his first appearance of the season against
Everton
on Sunday after replacing the injured Gabriel and could be set for a start in the
FA Cup
final. However, it's quite simply bizarre to know your club captain is unlikely to play regularly in the campaign and still award him the armband. William Gallas and Cesc Fabregas were two examples of the more unconventional choices for captain in past years but Mertesacker represents himself and the club in a good way.
There is no questioning his leadership skills although it could have made more of a difference if he was on the pitch. His vice skipper Laurent Koscielny is not vocal enough and remains prone to the odd mistake as could be seen in the game on Sunday.
The cause of Barcelona's decline
The lack of leadership on the pitch has also been evident off it too. At boardroom level Arsenal's majority shareholder 'Silent' Stan Kroenke has lived up to his nickname while chairman Sir Chips Keswick's only discussion on the future of the manager occurred through a two-paragraph statement and being chased down the road by a reporter for Sky Sports News.
Perhaps the most frustrating aspect for the supporters is the deathly silence from everyone above Wenger, whether it be chief executive Ivan Gazidis who only recently mentioned the upcoming summer being 'a catalyst for change' or Kroenke, who is now subject to a £1bn offer for his shares by Russian oligarch Alisher Usmanov.
---
CAZORLA ABSENCE
---
Wenger's men won eight of their 10 games with Santi Cazorla in midfield until his injury in mid-October and the 32-year-old's opening day cameo against
Liverpool
showed exactly what he brings to the team with two assists and a dominant performance as the Gunners lost 4-3.
Man Utd target Tielemans to join Monaco
"His loss really affected this team and I'm sure if we'd have had Santi playing, we'd be much higher up," said Arsenal legend Robert Pires. "He's such a difficult player to replace because technically, he's one of the best players in the Premier League."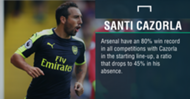 Cazorla's technical ability makes him able to pick a pass and beat man with consummate ease and it's exactly what Arsenal have missed this season. His fitness issues are also a worry going into next season and it's crucial that the club invest over the summer period to make sure they are prepared for the Spaniard to play only a handful of games next season.
Granit Xhaka has taken time to adapt to English football but finally looks like he's showing glimpses of a £35 million player, while Aaron Ramsey's talent cannot be questioned even if his own injury history makes it difficult for Wenger to instil full faith in such a midfield partnership. Mohamed Elneny and Francis Coquelin are both adequate utility players who are needed for certain games, but it's clear that Arsenal's first-choice central midfielders next season are likely to be a duo of Cazorla and Xhaka/Ramsey.
---
INABILITY TO ADAPT
---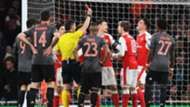 Wenger recently said that the team has progressed because last season's points season tally is now bettered. Such a statement is quite ridiculous when you consider that they are 18 points behind league leaders
Chelsea
. Last season, they finished 10 points adrift of winning the title but the season cannot be considered a success as Arsenal have finished three places lower than they did in the previous campaign.
Arsenal's inability to adapt in key games has cost them dearly this season. Crushing defeats to the likes of Bayern Munich, Chelsea and Liverpool coupled with dismal losses at West Brom and Crystal Palace had completely destroyed the confidence of a team devoid of leaders and a strong tactical gameplan. The turning points in the season were the defeats at Manchester City and Everton over the Christmas period and cost Wenger's side at a time when they looked in solid form. 
The formation change to three at the back was made too little too late in the season and while Arsenal have won seven of their last eight games, most fans, pundits and analysers could see that such a change should have been made months previously.
"It helped because we were unstable defensively," said Wenger. "Maybe we moved to that a fraction too late in the season."
---
WENGER UNCERTAINTY
---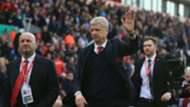 The whole season has centred around one man and his contract. Every press conference, every post-match interview and every game saw Wenger receive questions about when his future will be sorted out and whether he'll be staying at the club. He cannot be the only one to blame for the lack of clarity on this situation as majority shareholder Kroenke has left the manager to deal with the entire media spotlight himself.
Zidane proves he's no Di Matteo
Similarly, it took CEO Gazidis until the final two months of the season - when Arsenal had just the FA Cup to play for - before any public statement was made on the Frenchman's future while Sir Chips Keswick's statement was the ultimate farce.
There have been protests and fan channels amplifying their dissatisfaction on a mass scale and Wenger admitted that the lack of clarity on his future contributed to Arsenal's failure to secure a top four spot.

Whatever happens with Wenger's future there needs to be a learning curve from Arsenal's executive board members so a repeat of this situation doesn't happen. Wenger's role is so unique and unlikely to be seen in English football again, but his own refusal to open up on what's happening with his future is something that he is likely to regret when he looks back on his tenure as Arsenal manager.