Edu Gaspar
Arsenal Invincible Edu eyes great homecoming when Brazil take on Uruguay at the Emirates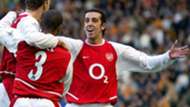 Former Arsenal midfielder Edu is convinced the Emirates is now a world class venue and is a capable of hosting the best sporting events in the land. 
Uruguay will play Brazil at the Emirates Stadium on November 16 and Edu, who was a key cog in Arsène Wenger's 2004 Premier League winning side and is now Brazil's technical coordinator, has called on Gunners' fans to get involved.
Edu, who played 15 times for Brazil, is helping to raise awareness of the fixture – a rare opportunity for English football fans to watch the likes of Neymar, Luis Suarez and of course Gunners' midfielder Lucas Torreira on English soil. 
London, we're coming back! 
#Brasil x #Uruguay 
November 16, 2018
@Arsenal's Emirates Stadium
https://t.co/mGPg6P2PUq pic.twitter.com/t5rY0rs8br

— Brasil Global Tour (@BGT_ENG) October 25, 2018
"It will be a great pleasure to go back to the Emirates, a stadium that's home to a club I'm really fond of," said Edu. 
"I had the opportunity to play for many years with Arsenal and win some important titles. 
"So, without a doubt it will be a pleasure to see the red and white colours of Arsenal again in a stadium that is increasingly becoming more important in the world. It's not the first time we (Brazil) are playing there.   
Former Valencia and Corinthians midfielder Edu spent four years in North London with Wenger's men and he still looks back fondly on his trophy-filled career with the Gunners.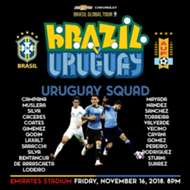 "It will be a great pleasure. I remember well that I played my last game alongside great friends like Dennis Bergkamp and other great athletes that were a part of Arsenal's history. 
"And just as I said earlier it will be a great pleasure to come back again now with the Brazilian team. It will be a great honour and I will certainly remember the great moments I had with Arsenal's supporters, and most of all at the Emirates stadium and at Highbury too. 
"I am waiting for you all on the 16th, Brazil - Uruguay. It will be a pleasure and an honour to see you all again." 
Brazil take on Uruguay in an international friendly at Arsenal's Emirates Stadium, 16 November, KO 8pm. Tickets from £30 Adult/£15 Under 16 at www.arsenal.com/brauru2018